Ask the Experts
How to Use NuFACE to Sculpt and Contour in 5 Easy Steps
by Marie
|
October 04, 2016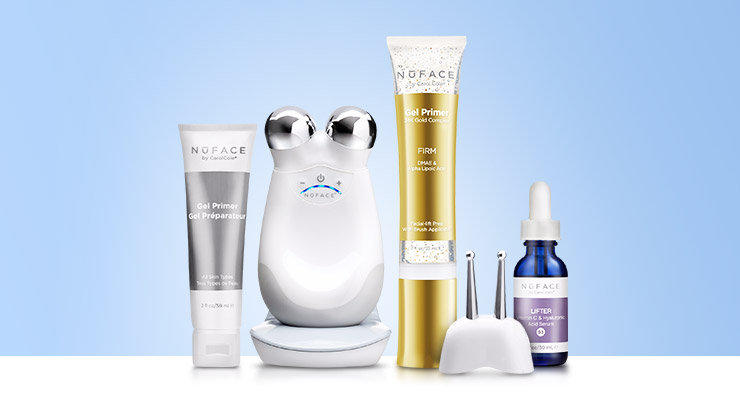 NuFACE Brand Educator Julie Kim is here to tell us how to use NuFACE Trinity to get the sculpted, contoured look that is all over the runways this season.
What better way to kick off Paris Fashion Week than by creating some Haute Contour of your own? Yes, you read that right . . . Haute CONTOUR. The runways were unanimous when it came to Spring 2017 beauty trends: sculpted, contoured faces with bold, beautiful brows. From Chanel to Balenciaga to Givenchy, the houses of couture stamped their approvals on beauty from head-to-toe. But don't let the runways intimidate you from trying the looks. Grab your NuFACE Trinity Haute Contour Curated Collection and let's strike a pose!
From runway to real world, this collection was specially curated by A-list celebrity aesthetician Shani Darden. She pieced together each product with you in mind to bring you the red carpet experience all of us dream about. In this collection, you'll find the award-winning NuFACE Trinity, a 2 oz Gel Primer, a full-size 24K Gold Gel Primer, the ELE and our cult-favorite serum, the Lifter. It's quite the curation because, let's face it, you deserve nothing but the BEST! There's no easier way to bring the looks of Spring 2017 into your own home, at your own leisure.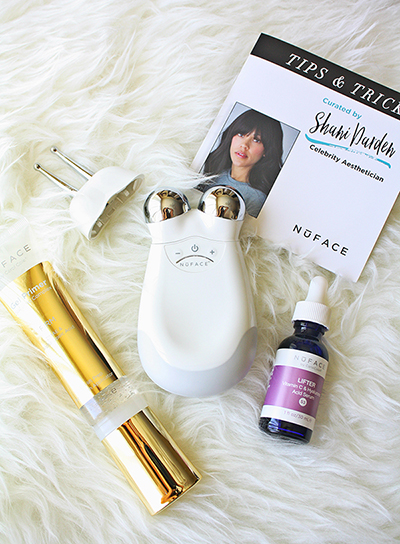 So let's get started on how to use NuFACE Trinity Haute Contour kit to sculpt your complexion!
Step 1: Cleanse the skin with your favorite cleanser (oil-free works best) and pat dry. Pull out your iPhone and download the NuFACE app. It's like having your own beauty advisor in the palm of your hand.
Step 2: Prep the skin by applying a mask-like layer of the Gel Primer onto one cheek.
Step 3: Start with the Facial Trainer (the chrome spheres). Using the device, glide up following along with the app, then do the same on your forehead. Then repeat the same treatment on the other half of your face. Tip: NuFACE's very own founder and celebrity aesthetician, Carol Cole, and Shani Darden optimize their treatments by using the 24K Gold Gel Primer as their facial lift prep.
Step 4: Once completed, change to the ELE attachment (the wands) and let your personal beauty advisor app show you how to treat your eyes and lips.
Step 5: Once you've completed the full treatment, apply four to five drops of the Lifter, our vitamin c and hyaluronic acid serum, to face, neck and décolletage before your moisturizer. The combination of vitamin C and hyaluronic acid is wildly popular in the aesthetics industry as it's known to brighten, lighten and tighten your skin. Which supermodel are you channeling right now?
Now, grab a mirror, put on your fiercest smile and admire that definition! Look for changes in the jawline, cheeks and brows. These results are nothing short of being Instagram-worthy, so snap a selfie or two to capture this moment. It's definitely fun to follow the latest beauty trends, but don't get wrapped up in all the nuances. Just do you. You're exactly who you're supposed to be, so don't hide behind all that makeup if it's not you, and don't give up all together because it seems so complicated. Let NuFACE bring out your most beautiful you.
There's really nothing more fashion-forward than taking a few minutes out of your day to treat yourself. And always remember to LOVE . . . LAUGH . . . LIFT (with NuFACE, of course). Because when you can love yourself, laugh that belly-aching laugh and embrace your own beauty, this, my friends, never goes out of fashion.
Now that you know how to use NuFACE Trinity to sculpt and contour, tell us about your favorite way to use NuFACE on Facebook, Twitter or Instagram.
Shop This Blog
Highlights
Hand-selected by one of Hollywood's most sought-after aestheticians, the Haute Contour Limite...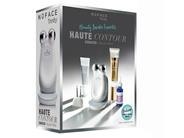 Quick Shop +