Sun Care
Everything You Need to Know About Basal Cell Carcinoma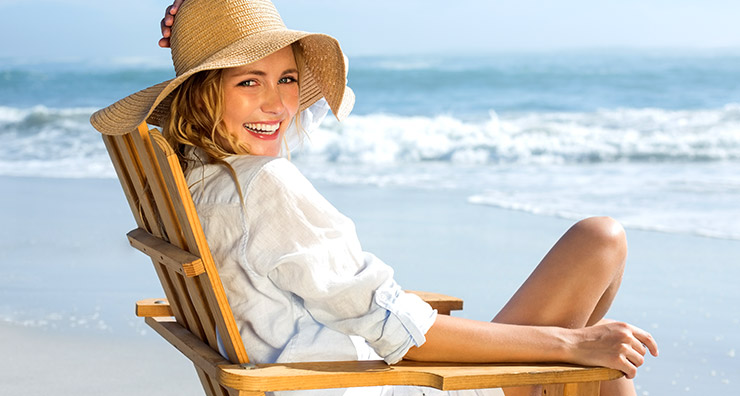 Basal cell carcinoma is the most common form of skin cancer, affecting over 3.5 million people each year. Over 2 million cases are diagnosed in America alone, and numbers are steadily on the rise. In honor of Skin Cancer Awareness Month, we've created an overview of basal cell carcinoma that includes causes, symptoms, risk factors and treatment options, as well as key prevention tips designed to help keep skin healthy in the long run.
Basal cell carcinomas are lesions that develop in the skin's basal cells, which line the deepest layer of the dermis. These lesions may vary greatly in appearance depending on severity and the individual. Usually, however, they appear as an open sore that bleeds, a patch of red, irritated skin, a red or white bump or a scar-like area that is shiny, white and tight. Lesions may even resemble other skin conditions such as psoriasis, eczema, or insect bites, and they may be painful or itchy. This is why it is especially important that any suspicious or inexplicable spot or lesion on the skin be examined by a physician.
The leading cause of basal cell carcinoma is sun exposure. Both frequent sun exposure over the course of a lifetime and less frequent, but intense sun exposure leading to burns can cause the condition. Almost all lesions occur on areas that are frequently exposed to the sun such as the shoulders, back, scalp, neck and face. The disease primarily affects older individuals, though dermatologists report that the average age is decreasing, with more and more people in their 20s and 30s being diagnosed. Men tend to outnumber women with basal cell carcinoma, and those who work jobs that require long hours outdoors or those who frequently spend leisure time outdoors are at risk. In addition, those especially at risk have fair skin, blonde or red hair and blue, gray or green eyes. Those with a family history of skin cancer or those who have already experienced basal cell carcinoma are at risk for occurrence or reoccurrence.
Basal cell carcinoma almost never spreads to other areas of the body, and treatment is usually successful. There are several treatment options, and most may be performed as an outpatient procedure in your regular dermatology clinic or physician's office. The most effective treatment for removing basal cell carcinoma is Mohs micrographic surgery. During this procedure, a thin layer of tissue containing the basal cell carcinoma is removed, examined under a microscope and mapped in detail. This mapping allows your physician to determine exactly where cancer cells are present. Another thin layer of tissue is removed, and then another, and so on, until no cancer cells are found. The Mohs technique allows for the most healthy tissue to remain intact, and it has an impressive 99% or better success rate. Other treatment options include excisional surgery, laser surgery, radiation therapy and cryosurgery. For minor basal cell carcinomas, prescription topical treatments are available, and for advanced cases, an oral medication may be necessary alongside your removal procedure. Your physician will be able to assess your condition and recommend a course of treatment that is right for your unique needs. You can find before and after pictures of Dr. Schlessinger's excellent removal results here.
Early detection and prevention are key when it comes to managing any existing conditions and keeping skin healthy. Basal cell carcinoma and other forms of skin cancer are almost always curable when they are diagnosed and treated early. Any persistent, changing spot on the skin should be examined by a physician, even if it is not painful or does not appear severe enough to warrant concern. Examining your skin from head to toe at least once a month and scheduling a professional skin exam at least once every year is recommended.
Of course, preventing basal cell carcinoma in the first place is best, and sun safety is crucial to shielding skin from cancers, damage, signs of aging and more. You should wear a sun protection product with an SPF of 30 or more every day, rain or shine. EltaMD sunscreens are our favorite here at LovelySkin. When possible, avoid being outdoors when the sun is strongest, between 10:00 a.m. and 4:00 p.m., and always seek shade. If you will be active outdoors, opt for a water-resistant sunscreen with an even higher SPF, and do not forget to reapply as directed. Long sleeves, pants, sunglasses and wide-brimmed hats can also help keep skin protected.
Do you have a question about basal cell carcinoma? Let us know in the comments section.
Connect with Us!