Beauty
How to Color Match Online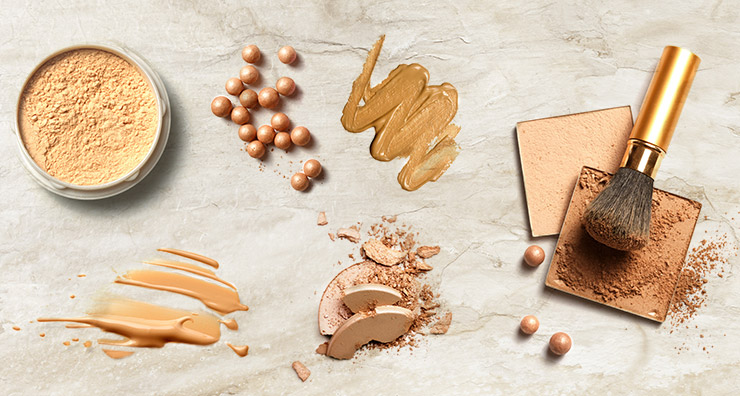 With so many choices, finding the perfect foundation online can seem like a nearly impossible task. Swatches often vary greatly from photos, making it difficult to discern which shade you need, and without first sampling the product's texture, you may be in for a surprise. At LovelySkin, we recently launched a new shade finder tool to help you make the best color selection. Choosing makeup online will always be a bit of a gamble, but there are some tips and tricks you can use to get your closest match on the first try. Read on to learn more.
Choose Your Foundation Type
A good general rule of thumb is those with dry skin types should opt for a liquid foundation, while those with oily skin should choose a powder. Once you've chosen between liquid and powder, the going gets a little tougher. From here, you'll need to decide between a dewy or matte finish, a sheer, medium or full coverage formula and mineral or non-mineral options. We recommend checking out reviews on LovelySkin.com to find real customer feedback.
If you struggle with any chronic conditions, such as acne, rosacea or eczema, you'll want to be sure to search for foundations that won't exacerbate inflammation or irritate skin. It's a good idea to check the ingredients list carefully for any known allergens or irritants before even beginning the color matching process.
Locate Your Skin on the Color Spectrum
Skin color can be categorized as light, medium or dark, and determining where you fall on the spectrum is the quickest way to eliminate most shades and speed up the matching process. To find whether you are considered light, medium or dark, examine your skin under natural light. Household bulbs and florescent lights can give skin a golden pallor or even a greenish tinge. Standing near a window on a clear, sunny day will offer the most accurate portrayal of your natural coloring. Luckily, most online swatches are arranged from light to dark to make the process even easier.
Determine Your Undertones
Undertones are either warm (yellow), cool (blue) or neutral (both warm and cool, yellow and blue). If you've been professionally matched to your perfect foundation shade in the past, you may already be familiar with your skin's undertones. If not, the process is simple. Step into natural lighting and turn your wrist over. If your veins appear blue or purple beneath your skin, you have cool undertones. If they appear green, you have yellow undertones. If they appear to be blue, purple and green, you have neutral undertones. You can also hold a plain piece of white copier paper up to your face. If your complexion appears bright alongside the paper, you have cool undertones. If it appears more dull or contrasted against the white, you have warm undertones.
Look for Shade Descriptions
Along with swatches, many brands also provide a detailed description of the shades, and some even include a chart dividing the colors into cool, warm and neutral categories. Once you know whether you are light, medium or dark and have determined what undertones you have, you can use descriptions to narrow your options.
Test Out Your Find
When your foundation arrives, use a sponge or brush to dab it along your jawline and then step into natural lighting. The foundation should disappear into your skin, blending seamlessly with your natural color.
Miss the mark? It happens to all of us! Try blending your product with another foundation to create a custom shade. You can also mix a little with your favorite moisturizer in the palm of your hand to create a tinted lotion with a sheer finish.
Do you have a question about how to color match online? Let us know in the comments section.