Skin Care
Is It Natural, Organic or None of the Above?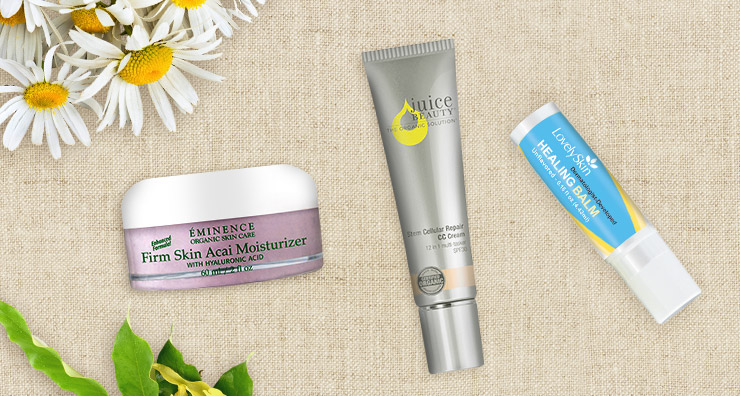 With Earth Day coming up, we wanted to let our valued readers know what really makes a product natural or organic. You may be surprised!
What Makes a Product Natural?
When you hear the words, "natural" or "organic," the first thing you probably think of is food. The perks of adopting a diet of whole, natural foods and a "green" lifestyle are very similar to those you can expect from natural skin care.
1). You Can Recognize Most of the Ingredients
Ingredients lists can be lengthy, and they're often filled with big, intimidating tongue-twisters. With natural products, most ingredients are not only pronounceable, they're found in our gardens, parks and farmer's markets. Or at the very least, we can look their scientific names up in an online botany guide and rest easy.
2). They're Thoughtfully Formulated
As the largest organ in the body, our skin absorbs many of the nutrients we need to stay healthy. Natural and organic products are formulated with mostly botanical ingredients and don't contain common irritants.
3). They're Also Cruelty-Free
We adore our pets here at LovelySkin, so this is a big one for us: most natural and organic brands do not test on animals. The products are safe enough to be tried out on people from the first round of clinical trials onward.
4). Sustainable Manufacturing Means a Beautiful Planet
Any type of manufacturing process can use up valuable resources and generally be pretty rough on the environment. Many natural brands have come up with innovative solutions to this issue, like in-lab harvesting and biodynamic farming. They also use sustainable packaging.
LovelySkin is proud to be on board with this initiative! All our orders are shipped in boxes made from recycled materials, and our packing peanuts are either recycled or biodegradable. You can watch them disappear in water!
5). Behind-the-Scenes Work Inspires
Do a little digging and you'll find that a lot of natural skin care brands are doing important work for our planet behind the scenes. Eminence, for example, plants a tree for every product sold through their Forests for the Future initiative.
What Makes a Product Organic?
All of the above and more! It's true that many natural products contain organic ingredients. But to receive an official Certified Organic seal from the United States Department of Agriculture, a product must contain at least 95% natural ingredients from a "controlled organic source." This just means that a company has to prove that 95% of their botanicals are organically farmed according to USDA standards.
Very few products are 100% organic. Just think—when you make a batch of salsa or fruit salad, it has a definite shelf life. You probably wouldn't want to eat it after a week, tops! If a company put out raw, all-natural products, they would go bad before you had a chance to finish up the jar, let alone notice a difference in your skin. The majority of Certified Organic products still contain safely derived preservatives to keep them fresh. These are in the smallest concentrations and really help you get the most out of your beauty investment.
Is it None of the Above?
Maybe, and that's okay! Natural and organic products are wonderful, and so are formulas that don't feature plant-based actives. Ingredients that are developed in-lab are rigorously tested and proven safe and effective for skin. Many actually come from a botanical source and are then combined with the latest technology to give the best results. And just because a company doesn't formulate its products with mostly natural ingredients doesn't mean they test on animals or use irritants. It's best to do your research to discover a brand's values, clinical testing process and preferred ingredients.
Interested in trying out natural and organic skin care? Shop our favorite environmentally friendly brands!
What is your favorite natural skin care product? Let us know on Facebook, Twitter or Instagram using #LovelySkin!