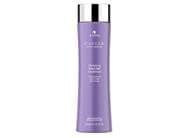 Reviews For
Alterna CAVIAR Anti-Aging Multiplying Volume Conditioner
Love love
Leaves hair feeling silky and full of volume great daily conditioner
I like this because I can use it everyday without feeling like my hair is weighted down. Yet, it conditions enough and does not wear out my highlights. LovelySkin Customer
Verified Purchase
Alterna Caviar anti aging volume Conditioner
Leaves hair soft and detangled. No more hair loss in the shower. Dealsinthedesert
Verified Purchase
Nice Product
I do not like conditioners because my hair needs body and most conditioners are too heavy, and I use a very small amount. I use the normal amount with this product. This product is not too oily and my hair has more body with this one than any I have ever used, and I've used a ton of conditioners. LovelySkin Customer
Verified Purchase
Pleasantly Surprised.
This is my first bottle of the new Alterna Caviar Anti-aging Multiplying Volume Conditioner. I've used Alterna products for a few year, and changed to the Multiplying Shampoo also. My hair is straight and fine with absolutely no body. The combination of shampoo and conditioner works well for me, much better than any other Alterna shampoo or conditioner before. I tried the Bamboo version some time ago, and it was OK for body, but too harsh for my hair. The new Multiplying Volume shampoo and conditioner work better together, and they do give my hair body without making my hair dull or dry. I don't care much for the fragrance of either, not pleasant as before, more medicinal. It does take more of each product, than it used to my hair is only chin length. While I'm not a fan of constant change, it's great when there is an improvement. So, I have mixed feelings about Alterna. The containers remain very stiff, and hard to squeeze. Conditioner is too thick to transfer to a more pliable container. It's also hard to tell how much is left in the containers. Finally, the cost - shampoo, conditioner, styling products, etc. are a bit much. I may be moving on to a less expensive line of hair products. PinkLipstick
Verified Purchase
Wowza!
It really does the trick for fine hair, and it adds moisture without feeling heavy. It smells good too! LovelySkin Customer
Verified Purchase