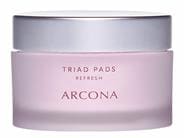 Reviews For
ARCONA Triad Pads
Little slice of luxury
Such a heavenly scent. My daughter loves to keep the empty jars for the scent. Great little pick me up at the end of the day when I want to climb into bed without fully washing my face. mkswoods
Verified Purchase
Good stuff
I've used this product for years and I love the way it makes my skin clean yet not dry. LovelySkin Customer
Verified Purchase
Love It
I have been using Triad Pads for awhile and love them. It is a true 3 in 1. Soothing Calm for end of day.
The name, "refresh pads," tells it all. After I cleanse my face for the night, these little puffs of calm soothe my skin and refresh, for a lovely sense of calm. The first time I tried them I literally said, "ahhhh," aloud. The gentle soothing treatment felt so good. Plus, I love the subtle scent. It is difficult to find a pad that doesn't have glycolic acid or other treatments. I just wanted a gentle, "nightcap," to my cleansing routine—one more sweep to fully cleanse and renew. I found it in these pads! PrairieLily
Verified Purchase
My Brother Is A Savior
BEST PRODUCT OF ITS KIND THAT ACTUALLY is QUITE quick to show an incredible difference and if I could, I would have one container for EVERY SINGLE month. Incredible product, cheaper than any other place I could find, & I have been this far beyond satisfied with the whole thing and I have been thrilled that I unintentionally have come across my NEW FAVE SITE. Skin care junkie! Oh, I want EVERYTHING. Thanks for the awesome customer service! VikkiRoseP
Verified Purchase
Great product
I am excited LovelySkin now carries Arcona. My daughter and I have been using it for a few years. Leaves my face feeling clean and refreshed.