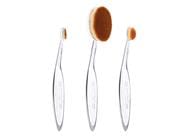 Reviews For
Artis Elite Collection 3 Brush Set
Treat Yourself!
The Artis brushes really are the nicest makeup brushes I have ever owned. The oval 7 is my favorite. I recommend these to all of my friends! growinguphughes
Verified Purchase
Beautiful set!
Bought this for a Christmas present for myself! I love it and hope I can use it for many years to come! The brushes are very durable. Artis Brushes
Provide a smooth, even look LovelySkin Customer
Verified Purchase
Didn't believe the hype, NOW I DO!!!
In 55 years, I have never been able to make eyeliner looks nice. My hands shake it looks crooked. This morning I am rocking a soft navy eye shadow liner thanks to this linear brush! WOW! WOW!!! I bought the kit for the foundation brush. It feels wonderful, and my makeup looks, well, like I don't have much on, but my skin is fabulous!!! Worth every penny! I debated on this for months. I have 60+ brushes and they will all be going bye bye! Tambensontinka
Verified Purchase