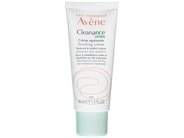 Reviews For
Avene Cleanance HYDRA Soothing Cream
$23.00
Best moisturizer for irritated skin
This is hands down the best moisturizer for irritated, dry, "peeling" skin. I have oil/combo skin, acne prone. I'm in my 40's so I use Tretinoin (Retin A) but unfortunately that leaves my skin very irritated. The only moisturizer that calms my skin and really helps with the dryness is this one!!! I always try to get something new but I aways end up wasting my money and coming back for this! Don't hesitate! Get it! KatyGary
Verified Purchase
Amazing
I have been looking for a moisturizer that actually worked, and I felt good putting on my face. I have dehydrated/sensitive skin, and this product is amazing. Normally, I have to use a quarter size amount of any moisturizer for my face, but with this product, I only need a dime size amount. Definitely buy this!!! Tatevik
Verified Purchase
Perfect for oily & combined skin
Light moisturizer, perfect for my skin with an oily T-zone and dry cheeks. LovelySkin Customer
Verified Purchase
Fantastic Hydration!
I purchased this because I needed an oil free moisturizer that soothes acne related skin. I have been using it for 3 weeks now along with my other Avene products, and I have softer skin and have had no pimples at all!! A little goes a long way. I totally recommend it and would buy again! LovelySkin Customer
Verified Purchase
Simple moisturizer
This is a nice, simple cream, but there was nothing special to it. I didn't notice any noteworthy results, so I did not repurchase. LovelySkin Customer
Verified Purchase
Good product
Smells good and moisturizes very well. LovelySkin Customer
Verified Purchase
Another Excellent Avene Product!
I love this lotion. It's so soothing for my acne prone skin when I use my acne medications. I'm a life long Avene devote! ElizabethMilwWI
Verified Purchase
Fantastic
I'm 47 years old & have tried many moisturizer creams. This cream doesn't irritate my sensitive skin which is prone to acne. It's soothing & calming leaving my face feel soft with no greasy feel afterwards. I highly recommend it. LovelySkin Customer
Verified Purchase
Always come back to this moisturizer...
I was turned on to Avene by an aesthetician during a series of laser treatments for acne. My skin always loved this moisturizer and I strayed from it after my acne cleared and I wanted to try something new. I have terrible acne that always comes back no matter how I treat it and this moisturizer is one I always come back to and can trust not to further aggravate my skin! LovelySkin Customer
Verified Purchase
Love Clean AC Cream!
This is the only cream that calms and moisturizes my stubborn skin. It is dry from a topical acne medicine but still has the characteristics of oily skin. Me and my daughter will not use anything else! Love the price also! LovelySkin Customer
Verified Purchase
Avene Clean-Ac Hydrating Cream
This Hydrating cream is Awesome! It is so full of moisture for your skin, and leaves it soft but not greasy. It helps balance combo skin and will help all kinds of dry skin, as well. I would absolutely order this product again. I find the entire Avene line to have saved my skin's life! I had 0 problems with my skin until recently and had tried cream after product. I swear that Avene is the one product that does it all. It is so gentle on especially your face, that I will never use another brand again. I am not just saying this, I mean it! I first found Avene in my skin Dr.'s office, and then saw a review of it on YouTube and had remembered that I purchased a product...I immediately re-ordered almost the entire line from this site! My skin is calmed-down, less red and feeling happy these days! Thank you Avene! The Clean-Ac Hydrating cream is also great on the go or in any climate! LovelySkin Customer
Verified Purchase
Great moisturizer
Great product & it has never broken me out or clogged my pores. I've been using this product for about over a year! LovelySkin Customer
Verified Purchase
Love!
I bought this to see if I would like it as a daily moisturizing cream. I am using the rich compensating cream but I like this as well! It absorbs, without leaving you feeling greasy so when you apply your sunscreen it does not feel like you have a cake on your face. A little goes a long way. I will go between this and use it during the summer and the Avene rich compensating cream, which I will use during the dry winter months. LovelySkin Customer
Verified Purchase
Everything breaks me out... and this didnt!
Im a fair-skinned redhead and am typically super sensitive and very acne prone. But this moisturizer isnt breaking me out! Im amazed that my skin is tolerating a product this rich! I am feeling more hydrated than ever. The main drawback for me is that it has a fragrance, which Im against on principle as a person with sensitive skin (though I havent noticed any irritation yet). LovelySkin Customer
Verified Purchase
In Love with this moisturizer
It smells divine, feels amazing, and leaves skin looking great. I use it at night as it can leave your skin looking a little bit oily but this is my favorite moisturizer. My dermatologist recommended this one to me as part of my acne regimen to combat the dryness of the acne medication. Great for soothing problem skin.
I decided to try something different, and Im very pleased with the performance of this lightweight moisturizer. LovelySkin Customer
Verified Purchase
Hydrating but not heavy
This is my all time favorite night time cream, oil free and prefect even for my oily skin. it hydrates so your skin can heal at night but never clogs my pores! LovelySkin Customer
Verified Purchase
I always have extra
I buy 2 bottles at a time and like to have a small stock pile of this cream. Proactive does wonders for my skin but leaves it dry and red. I started using this product after the proactive set and have had amazing results, People are stoping and telling me randomly that I have beautiful skin. My sisters and many friends are now hooked as well. LovelySkin Customer
Verified Purchase
Works Fast!
Love this product. Its perfect for after face procedures (peels, lasers, etc.) and it's very soothing. Must have for post face treatments. LovelySkin Customer
Verified Purchase