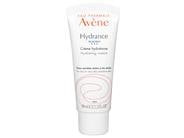 Reviews For
Avene Hydrance Rich Hydrating Cream
$32.00
Awesome for sensitive skin
This is my holy grail moisturizer. My derm recommended it to me after finally clearing up pesky stint of perioral dermatitis. It's exactly what a moisturizer should be, simple, non greasy, truly moisturizing and fragrance free. I'm in my 20s, and my mother in her 50s is just as hooked. If you have sensitive skin, or are looking to avoid the unnecessary frills, this is for you. LovelySkin Customer
Verified Purchase
Love this Cream!
Super light coverage. Does not feel greasy. Great hydration for my skin as I live in a very dry climate. A little goes a long way. Racegirl57
Verified Purchase
Excellent Product
I first used this when I had a facial at my plastic surgeon and they recommended the Avene products. I have dry skin and it is a good daily moisturizer, but in the winter, I will use a heavier one a few days a week. LovelySkin Customer
Verified Purchase
The best
I use this twice a day. It feels great. It does not break out my sensitive skin. There is no perfume. It also corrects dry spots fast. LovelySkin Customer
Verified Purchase
Perfect
This is a perfect cream for dry sensitive mature skin. Love it! Jbl1955
Verified Purchase
I'm in Love
I'm in love with this moisturizer which was recommended to be my dermatologist. As it is labeled "rich," I was a bit hesitant to try it because my skin is so sensitive and my pores get clogged so easily. But I have been using it for over a month now, and no issues. It is not greasy, absorbs very quickly, and wear very well under makeup. Also, I had no issues interacting with any other products (serums, hydrators, etc.). This also comes in a UV version which I have not yet tried. LovelySkin Customer
Verified Purchase
Always a sure thing
This product I've been purchasing and using for awhile now it's always a sure thing never let's me down in regards to moisture and never irritates. Thank you! LovelySkin Customer
Verified Purchase
Avene
While I have been extremely satisfied with other Avene products, this particular one causes my rosacea to flare up and look worse, but it works well on my neck. LovelySkin Customer
Verified Purchase
Love it!
This rich cream is perfect fo my changing dry skin as we come into fall! stephbells12
Verified Purchase
New Wonderful Discovery
I was in Florence, Italy and ran out of my moisturizer and picked up Avene Hydrance Rich at the local Farmacia upon the recommendation of the salesperson. It was so rich but not too much that my make-up didn't feel like my pores were clogging like some moisturizers feel. Thought I would never find it back home but there it was on LovelySkin when I got home so had to order. LovelySkin Customer
Verified Purchase
Not as I thought
I love the Avene line of products. This particular Optimal Riche cream is really, really thick. So thick it is hard to spread out on my face. I am using it for hand cream and it works great and my hands are soft. I guess if you have really dry skin it may be a good match for you. I love all the other Avene products and purchase them on a regular basis. I love the Thermal water. LovelySkin Customer
Verified Purchase
Amazing!
I've used this product for several years now due to dry skin. I was hooked after the first use! It's a very light product but a wonderful moisturizer. Also, no problems with this sensitive skin of mine! I'd highly recommend this product! LovelySkin Customer
Verified Purchase
Excellent moisturizer
This goes on smoothly, absorbs quickly and does not feel greasy. My skin glows and is silky smooth. LovelySkin Customer
Verified Purchase
Rich in Hydration
This moisturizer is rich in hydration. It goes on silky and is quickly absorbed. It leaves your skin soft and not greasy. I will definitely purchase again. LovelySkin Customer
Verified Purchase