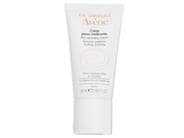 Reviews For
Avene Skin Recovery Cream
$35.00
Lovely
This is a lovely moisturizer that has been so helpful in my tretinoin journey. It helps soothe irritation and dryness without clogging my oily skin. I definitely recommend this. My go to
I use this daily. Works well for rosacea and acne prone skin. LovelySkin Customer
Verified Purchase
Made my skin feel so much better
I have been trying to acclimate to retin-a over the last year and recently my dermatologist switched me to a foam Vitamin A prescription and it's been wrecking havoc with my skin. I use it at night only but have to use a lot of moisturizer to help prevent my skin from becoming tight and dry. My prescription has also made my skin very sensitive. I have tried a number of moisturizers targeted to sensitive but when I applied them to my face, it stings! The stinging goes away after a while, but it wasn't pleasant. I did a bunch of research about moisturizers to use on sensitive skin and this one popped up as one of the best. I am so glad I did! NO stinging! It's just refreshing and has made my skin feel so much better just after using it for a couple of nights. If you have extremely sensitive, fussy skin, I highly recommend this moisturizer. There's not a lot of bells and whistles to it, but it gets the job done. sueeich
Verified Purchase
Excellent for post peel
Love this product, great for oily/acne prone skin LovelySkin Customer
Verified Purchase
Great Cream
Tried many different products/brands, Avene Skin Recovery Cream was by far the absolute best. Needed for skin condition, Poikiloderma, on neck which is inflamed, super sensitive. Provides relief. LovelySkin Customer
Verified Purchase
Moisturizer
Avene Skin Recovery Cream is a good moisturizer to use on my sensitive facial skin after I use Tretinon, which I use at night. I also use it in the morning as my daytime moisturizer. LovelySkin Customer
Verified Purchase
Best burst of moisture for my skin!
Love, love, love this product to soothe and moisturize my skin when it needs some TLC, especially after a dry day or after a facial. It instantly soothes and calms my skin and delivers that extra burst of moisture. LovelySkin Customer
Verified Purchase
Favorite moisturizer
I purchased this and a La Roche Posay moisturizer to test. I recently started Retin-a and was worried about peeling. The La Roche Posay lotion is a bit thicker/creamier so I usually use that one on the days I put on the Retin-A. On "off" days, I use this one at night. I have oily/combination skin, and so far I have had zero peeling and very little irritation. I've been using Retin-A and this lotion for a month now. Love the dispense feature for this one - feels hygienic. LovelySkin Customer
Verified Purchase
Scene Skin Recovery Cream
Great moisturizer for sensitive skin. My daughter likes it for adding moisture to skin that is dry from acne treatments. LovelySkin Customer
Verified Purchase
avene skin recovery cream
After reading reviews about ingredients - nothing harmful - decided to try and I am satisfied, Nia 24 was discontinued and this product mixed with small amount of moisturizer works fine in the evening. I would buy again. mountainruthie
Verified Purchase
Nice
This is a nice cream but I ended up using it for my body versus my face. It felt too thick as a face cream for me. I have normal to combination type skin. LovelySkin Customer
Verified Purchase
Superior moisturizer
The cream does a great job providing my skin lasting moisture without irritation. I highly recommend this product. A+ Best Cream for Sensitive Skin
I really love this cream. I have very sensitive skin and almost anything will make my skin red and irritated. This is a perfect formula for those who want moisturized, glowy, smooth skin with no irritation! This is my third bottle and I will continue to use it! Susannacalhoun
Verified Purchase
Perfect for Flaky Winter Skin
I recently started a prescription retinol, and this moisturizer has been excellent at keeping the flaky patches at bay. Before this I was using a gel cream, but it never seemed to be hydrating enough. This moisturizer feels light enough that I don't look greasy but definitely packs a punch on the hydration front! 10/10 recommend. skinobsessed123
Verified Purchase
Amazing
Great for sensitive dry skin!!! LovelySkin Customer
Verified Purchase
Soothing and calming
This cream is a soothing alternative to my usual evening moisturizer when my skin is occasionally irritated. I also use it on the sensitive area of my neck. The cream is not scented and it doesn't feel heavy. It's a very nice product. Great product for the winter
I have sensitive skin, so I'm always very cautious on what I use. I needed something to protect my skin in the winter months. I love how thick, yet lightweight it is. I'd highly recommend to add this to your winter skin routine. LeslieR
Verified Purchase
Great for dry skin
My skin became suddenly much drier about a month ago and I started to scramble for products that would help. Having used Avene products before with great success I chose this well-reviewed cream to help me out. I have really enjoyed using it and while my dry skin isn't suddenly lustrous with moisture it is more comfortable to be in. Wickerparkgirl
Verified Purchase
Great product but pricey
Love how it is light on my face but it is a small container and pricey. LeslieD
Verified Purchase
Works amazingly for my hypersensitive skin
I have extremely sensitive and reactive skin. Before this cream I had a very hard time with creams, because creams would either break me out or give me dry patches. This cream is incredibly moisturizing but not heavy at all. I love it so much. I have acne prone, combination skin and it calms my skin. LovelySkin Customer
Verified Purchase
Great after peels
Super soothing and skin feels refreshed and glowing the following morning. Kristelle
Verified Purchase
Avene
So far so good. It is a gentle yet very effective moisturizer. It is also fragrance free which is a big plus. I use this product following my Retin A treatment on my face. Keeps my skin smooth and supple. LovelySkin Customer
Verified Purchase
Very gentle!
I was looking for a moisturizer to incorporate with my new retinol regimen that was extremely gentle. My skin is extremely sensitive currently and this moisturizer doesn't cause any stinging or burning when applied. Just what I needed. It also is very moisturizing without leaving my face greasy. LovelySkin Customer
Verified Purchase
Soothes Skin
I had an area on my nose that was rough. Started Avene Skin Recovery Cream And before I finished the 1st tube i noticed the area was smooth. LovelySkin Customer
Verified Purchase
The moisturizer I've been waiting for
This is my most-purchased skincare item. I've tried more moisturizers than I can count and I keep this on hand at all times. I wear it daily, in the morning under SPF and as my nighttime moisturizer. Highly recommend!