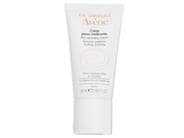 Reviews For
Avene Skin Recovery Cream
$35.00
40 Results
Works amazingly for my hypersensitive skin
I have extremely sensitive and reactive skin. Before this cream I had a very hard time with creams, because creams would either break me out or give me dry patches. This cream is incredibly moisturizing but not heavy at all. I love it so much. I have acne prone, combination skin and it calms my skin. LovelySkin Customer
Verified Purchase
Great after peels
Super soothing and skin feels refreshed and glowing the following morning. Kristelle
Verified Purchase
Avene
So far so good. It is a gentle yet very effective moisturizer. It is also fragrance free which is a big plus. I use this product following my Retin A treatment on my face. Keeps my skin smooth and supple. LovelySkin Customer
Verified Purchase
Very gentle!
I was looking for a moisturizer to incorporate with my new retinol regimen that was extremely gentle. My skin is extremely sensitive currently and this moisturizer doesn't cause any stinging or burning when applied. Just what I needed. It also is very moisturizing without leaving my face greasy. LovelySkin Customer
Verified Purchase
Soothes Skin
I had an area on my nose that was rough. Started Avene Skin Recovery Cream And before I finished the 1st tube i noticed the area was smooth. LovelySkin Customer
Verified Purchase
The moisturizer I've been waiting for
This is my most-purchased skincare item. I've tried more moisturizers than I can count and I keep this on hand at all times. I wear it daily, in the morning under SPF and as my nighttime moisturizer. Highly recommend! Love this
This is a super rich cream perfect for year round use, creamy and easily applied. I use this as my last face cream right before my tinted sunscreen. Perfect day or night. I have very sensitive skin acne prone (hormonal) and rosacea. This causes no adverse skin issues and is calming. LovelySkin Customer
Verified Purchase
Perfect for Rosacea
Avene Skin Recovery Cream is a gentle face cream that is both moisturizing and soothing, especially for my rosacea prone skin. The hydration feels light and yet does last all night. In the morning, my face feels very soft and smooth. I also love that it is fragrance-free. I would highly recommend for sensitive skin. LovelySkin Customer
Verified Purchase
Great for sensitive skin
I have been very pleased with this moisturizer. It glides on smoothly and leaves my skin feeling soft and hydrated and it has not irritated my sensitive skin. I am going to try the Riche version of this to see if I can get even more moisture and maybe be able to use less of the product. The only downside is the price for such a small amount. LovelySkin Customer
Verified Purchase
Great for sensitive skin!
Super gentle yet effective on sensitive, dry skin! LovelySkin Customer
Verified Purchase
Best Moisturizer
This is the best moisturizer, good for all year long. Love using this in combination with any topical acne treatment. Treats dry spots overnight! LovelySkin Customer
Verified Purchase
Extremely gentle
This product is very gentle but does the job in hydrating and repairing skin. Not many additional ingredients but that's exactly what makes it so gentle and perfect for sensitive skin. LovelySkin Customer
Verified Purchase
Perfect Moisturizer
This is my go to moisturizer! I use it in the morning after I shower and put on my Vitamin C serum. I use it again at night mixed with my Retin A and have had the best results for my aging skin (I'm in my 40s). It doesn't have a scent and feels light on my skin. I fully recommend! Hbmomma
Verified Purchase
Perfect Recovery Cream
I love all their products. This Recovery Cream is just right. LovelySkin Customer
Verified Purchase
Avene Skin Recovery Cream
I love this cream. It really calms my sensitive skin in addition to keeping it moisturized and soft. It doesn't clog pores so no worries on breaking out. I love the tube. It dispenses the cream cleanly and can control the amount that comes out of it. I use it at night and in the morning under my makeup. LovelySkin Customer
Verified Purchase
Skin Recovery Cream
I truly have to say I love Avene. This skin Recovery Cream is magical. It is a miracle cream. I have been ill for nearly 3 years. My skin has always been an oil factory. I am half English with English and Scandinavian skin. My mother in her 90's has used creams and taped her face since I was a tiny girl. I would have been one big pimple if I had used her creams. I have acne rosacea. about two years ago my skin was suddenly a burned dry mess. I have been so upset. I tried different creams and lotions. it got a bit better but nothing dramatic. It has been a horror. I have been to ill to see my doctors, my dermatologist. then with my sunscreen I could not even blend in I finally tried this its like satin on my skin and a remarkable difference I cannot believe. I am 66 1/2 and have no wrinkles but thin lines on my forehead. This is the Miracle cream I have been looking for. it is unbelievable. I like avene but this cream not only makes my skin looks smooth but is actually healing it. I would recommend this to anyone> I say thank you Avene. So much. xo LovelySkin Customer
Verified Purchase
Very Moisturizing
Received a sample of this product, and had to purchase. Leaves skin feeling moisturized for hours. I apply this on my entire body, including my face. Perfect
In love with this moisturizer as it hydrates while keeping my sensitive skin calm and does not cause breakouts. rnmiles3
Verified Purchase
Works great!
A great addition to my daytime routine before applying makeup, super moisturizing & helps set make-up well, no adverse effects whatsoever, effective yet very gentle! I got a sample & I'm glad I invested in the full size. Thanks, LovelySkin, for making it affordable with discounts/promos/rewards. MelanieTS
Verified Purchase
Very nice!
I really like this lightweight, non-greasy cream. It is non irritating and absorbs nicely for the face and gentle and good for irritated eczema spots on hands as well. Miracle worker!
This was recommended by my dermatologist. I have VERY sensitive, dry skin and most face creams cause breakouts or horrible dermatitis. I am allergic to most products, including hair products, and have to be very careful about what I put on my face. I've tried everything on the market and after 20 years of searching I've found my match. East coast winters are brutal and this is the only product that prevents my skin from flaking but absorbs and doesn't make me oily or cause makeup to move around. I apply two layers under my Hourglass Mineral Veil primer and makeup and it keeps my skin hydrated for at least 10 hours. I also use it during the summer, and it doesn't cause any breakouts. I love most Avene products but this is the one I can't live without. Saved my skin!
My skin was red, irritated, itching and burning from acne treatments. I decided to give this cream a try because it's gentle nature and short ingredient list. All I can say is WOW! Almost immediately, my skin was back to a normal phase. All of the Avene line is amazing. Thank you, LovelySkin, for selling this line! LOVE!!
I have never found a cream that has been so amazing for my skin! I use this underneath my moisturizer. It has decreased bumps on my skin and gives me a healthy glow. Absolutely love this! LovelySkin Customer
Verified Purchase
Wonderful for Sensitive Skin
I have been using the cream for intolerant skin for approximately 10 years. I don't know why, but my skin began to be very sensitive, and my dermatologist recommended it. It's been a Godsend, and I love the way it moisturizes without ever feeling greasy. It's a wonderful primer for my foundation as well. I used to have to buy it from my dermatologist, but it's very convenient to order it from LovelySkin, and have it delivered. And, they usually include your choice of a couple samples that are always interesting to try. It's a great product!!! LovelySkin Customer
Verified Purchase
Love this cream!
Menopausal hormone fluctuations can turn my skin REALLY dry overnight. This cream is lightweight yet very moisturizing for daytime and always helps restore my skin back to its normal state in a matter of days. LovelySkin Customer
Verified Purchase