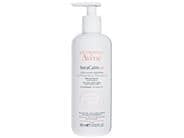 Reviews For
Avene XeraCalm AD Lipid-Replenishing Cleansing Oil
$12.00
LOVE IT
I HAVE EXCEMA AND PSORIASIS AND THIS STUFF HELPS TO HEAL AND SOOTHE MY IRRITATED HANDS. CANNOT LIVE WITHOUT !! Gentle moisturizing cleanser
This cleanser has been a wonderful addition in my skincare routine. I only use it once a week since it has an alpha hydroxy acid in it, but it's really helped my facial and body dryness immensely. If you suffer dryness, this would make a great addition to your dryness routine. Tuckie39
Verified Purchase
Seasons
I really like this product. However, I feel it's better for me in the summertime. It feels like an oil but performs like a gel with mild surfactants that produce a low foaming action. Would recommend with one caveat
My brother (who is just as skincare obsessed as I am) recommended this cleanser after one of his favorite skincare YouTube gurus posted about it. I was skeptical at first but turned out to be pleasantly surprised! This oil to foam cleanser left my skin feeling hydrated and plump, and the lather didn't seem to strip moisture at all. The only reason I gave it four stars instead of five is because it's not the best at removing makeup, unlike many of the oil cleansers I've used before. Other than that, this is a great everyday cleanser if you aren't wearing a ton of makeup that needs to be removed—-or if you do wear lots of makeup and don't mind following up the cleanse with a swipe of micellar water! skinobsessed123
Verified Purchase
Awesome for Dermatitis
I have been through so many face washes in the last months and this is the only one that works for me! It leaves my skin moist and clean and there's no redness. LovelySkin Customer
Verified Purchase
Not what I expected
This is not your typical oil cleanser. I was shocked that it is more of a thick gel-like cleanser. However, it is quite gentle. I have eyelid dermatitis and it did not irritate my eyes at all. I haven't been using it for long, but seems to be a winner. I'll re-review if I change my mind! KellieShovlin
Verified Purchase
2 in 1
Love this product for mature sensitive skin. This product was recommended to me as a facial cleansing oil, however I use it as a cleanser for my body as well. I am a minimalist and love the fact this can be used for face and body. LovelySkin Customer
Verified Purchase
Great for Hypersensitive Skin
I had eczema when I was a child and haven't really experienced it since then other than a patch on my hand or face if i came in contact with an irritant. For whatever reason this summer my skin was just flaring with constant rashes and itchiness. This was the only product I used in the shower that could calm it down. LovelySkin Customer
Verified Purchase
Best make up remover
This is the best makeup remover. This removes all the makeup foundation away easily. It is perfect for oily skin. I love to use it especially during summer time when my skin is shiny and oily. LovelySkin Customer
Verified Purchase
Xeracalm cleanser for Ezcema & Rosacea!
Xeracalm is amazing for Rosacea and Ezcema. I have a lot of redness due to some atopic dermatitis and Rosacea. This cleanser has been really helpful for inflammation and calming the skin. It takes off my makeup and makes my skin feel so fresh. My skin is looking better and less red because of this cleanser. Highly recommend for those with sensitive skin! Scoobydoo
Verified Purchase
Anazingggg!
This cleanser comforts and soothes my dry sensitive skin. A must have. Will definitely re purchase. Thanks Avene. Your products are amazing for my sensitive skin. Just what you need
Mild cleanser that leaves skin soft and clean without stripping away your Natural oils. LovelySkin Customer
Verified Purchase
Quick and effective
This is a very effective first cleanser for both face and body. It is a clear, thick gel-liquid. I use it for removing sunscreen and makeup from my face before following up with a gentle cleanser by another brand. I have also used it on my body after sunny days featuring many layers of sunscreen and it works great. It makes short work of removing mascara, but it does sting a bit when I use it along my lash line. Interestingly, it has some light foaming action when emulsified with water, which is not what I was expecting but it does not seem to be even slightly irritating. I don't usually wash my face in the morning, but this does make a great AM cleanser on its own for days when I feel the need for a morning cleanse. Apart from the slight stinging it causes my eyes, I'm pleased with this and will consider repurchasing when the time comes. FairLady
Verified Purchase
Wonderful cleanser
This is a gentle cleanser that lathers and removes all of my makeup without drying my skin. I have very sensitive skin and find that this calms my skin. I will continue buying this product. gentle and effective
I have used this product for about 3 years, its my go to cleanser, cleans without drying, which is why I keep repurchasing. My aging and acne prone skin as been very happy with this cleansing oil. Great for dry skin. Womantastic7
Verified Purchase
Completely removes makeup and sunscreen while moisturizing
Very happy with this cleanser. Effective at removing physical sunscreen and waterproof eyeliner and leaves my skin feeling moisturized. No residue left behind! LovelySkin Customer
Verified Purchase
Great cleanser!
Great for dry, sensitive skin. My nightly routine - Initially cleanse with Avene Micellar water, followed by Xera Cleansing Oil (using Clarisonic). Follow up with Avene Mineral Spring Water. Always getting compliments on my skin, and asked what I use. Gentle and Effective
One of my favorites. Very gentle and effective. Removes makeup and mascara while leaving skin feeling smooth and clean. LovelySkin Customer
Verified Purchase
Interesting Texture
I was using the La Roche Posay Hydrating Cleanser and wanted to try something new. This Avene cleansing oil is very interesting. First off, it's not oily and doesn't leave behind a greasy residue. It leaves the skin very soft and soothed. I have super sensitive rosacea prone, acne prone skin and it didn't trigger any breakouts or redness. Danielle133
Verified Purchase
A must for anyone on Accutane
I'm on Accutane and this cleanser has helped my face a lot. Its helped it stay soft, smooth and it doesn't cause any dryness of irritation. Well, it does not cause anymore dryness because anyone that's taken Accutane knows that it in itself causes dryness. Avene has some incredible products and since I've been on the Accutane they have been a lifesaver for me. I fully intend to use this line once I'm off the Accutane as well simply because I've seen such a difference in the softness and texture of my skin since adding these products when before adding these the Accutane was making my skin feel like alligator skin. The other product I'm using in this line is the Xtra Calm balm....definitely a must for anyone on Accutane or anyone with very dry sensitive skin. GueneverSiskey
Verified Purchase
Great stuff!
Very gentle and I love the pump. This lives up to all other great Avene products. Just the right amount of lather and gets my makeup off. Transformed my skin
Every year from fall until spring, I get dry, red, itchy, flaky patches on my face. That would happen even with using so-called mild cleansers. I started using this cleanser a couple of months ago and this is the first year in many that I haven't had one issue. It removes my makeup extremely well, yet somehow doesn't dry out my face. I definitely feel the need to moisturize after I use it, but I haven't had any dryness. Amazing Product
I bought my first bottle from Avene. I love the product so much. I have acne prone skin and this cleansing oil is perfect. Highly recommend to use if you have the same type of skin as mine. LovelySkin Customer
Verified Purchase
Helps clear up acne and sensitive, dry skin
I received a sample of this product and gave it a try after reading about how oil cleansers can actually help acne. I was very skeptical because it seemed odd to slap oil on my acne-prone face and because I wasn't convinced it would actually remove makeup. I was totally wrong. This stuff is amazing. After using the sample for 2 weeks (huge sample!), I have zero acne. ZERO! How is that possible? It's also very effective at removing makeup and heavy sunscreen. My skin feels hydrated and smooth. I start with this oil cleanser and then use my PrescribedSolutions Don't Be So Sensitive (with the acne booster) and my skin looks like it was airbrushed. I bought the full size product and look forward to using this every day. I'm starting to buy into the new trend in skin care that is focused on rebuilding your skin's pH balance and moisture barriers. There is a lot of research that suggests that many products - from makeup to the lovely serums and acids we use are actually wreaking havoc on our skin and causing the acne, dryness, and sensitivity those products were supposed to address in the first place. Given how well my skin is doing after using this product for 2 weeks, I believe it. My sensitivity, redness, and acne are gone. For the first time in my life I've been skipping foundation in the morning. Crazy! It has a slightly chalky smell and the consistency is very thin, but I use about 1-2 tablespoons to remove my makeup in the evening. I also use it in the morning to cleanse my face in the shower. It feels great after wearing Retin-A Micro all night. LovelySkin Customer
Verified Purchase
Great for dry/compromised skin!
I am currently undergoing a course of accutane, which causes severe drying and sensitivity of my arm and neck area. To prevent further drying or irritation from other soaps and body washes, I purchased this Avene Cleansing Oil to use as my regular body wash. First off, it works great at removing the grime from the day (including my body sunscreen) but is so gentle and soothing that its been helping with the dryness on my arms! :D It helps tremendously with my sensitivity and I plan to continue using this after I finish my course of the medication. LovelySkin Customer
Verified Purchase