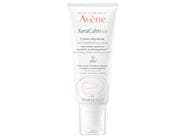 Reviews For
Avene XeraCalm AD Lipid-Replenishing Cream
$34.00
Post procedure must!
This cream was fabulous for my face after I had the blu-light which is a procedure where they put amino levulinic acid on your face for one hour then expose it to the blue-light; it is for actinic keratosis which are pre-cancerous lesions. This was recommended by my dermatologist as well! It is fabulous for irritation, redness, and any other post procedure skin. Mindyann
Verified Purchase
Does exactly as it says
Non-irritating formula didn't aggravate my rosacea! As others have said, it is quite thick. I use it at night in winter months, face and body. I don't have eczema, but trust this company to provide soothing relief for those who do. LovelySkin Customer
Verified Purchase
Great for Eczema
I bought this for child's eczema, and we've already started to see a difference. I will be definitely buying more. LovelySkin Customer
Verified Purchase
Face Saver
This cream can be used on both face & body. I use it on my face & around my eyes as I suffer from bouts of eczema & atopic dermatitis. Keeps my skin balanced and calms irritation. A little goes a long way and the price is right. LovelySkin Customer
Verified Purchase
Hydrating and Soothing
This cream is fantastic. I was in need of an everyday cream I could use of my face for my Eczema breakouts. I've heard great things about this brand and how they cater to sensitive skin types like myself. I use morning and night on my face and it has really helped boost hydration and soothe my skin. Recommend if you have dry sensitive skin! KellyinOrlando
Verified Purchase
Great product
I have been having very dry skin for several months months now. My dermatologist had prescribed several products to no avail. I was miserable! Finally she suggested Avene Xera Calm and my itchy dry skin is now soft, smooth and comfortable! I definitely recommend this product! LovelySkin Customer
Verified Purchase
Good Daily Moisturizer
I bought this as I thought my drugstore brand moisturizer wasn't cutting in for my dry, scaly lower leg skin. I think its helped a little and is very creamy and thicker. I'll keep using it and see how it works as spring approaches. I do have a complaint about the packaging. The pump is stiff and hard to get the cream to come out. Not ideal. Beautyjunkie1
Verified Purchase
Excellent!
Love this for my hands! Really helps stop itching due to dryness and dermatitis. Great for Eczema
I fight eczema flare-ups and on my neck and chin area, this cream has helped better than any other moisturizers I have tried!! LovelySkin Customer
Verified Purchase
For parched skin
This is for very dry parched skin. It moisturizes immediately. If using retinol, I highly suggest issuing this right after! THANK YOU from a mom battling Eczema
This product has been a game changer for my infant daughter with Eczema! She would cry every time I applied the prescription ointment (Eucrisa), so I was at my wits end. This cream improved her skin and her temperament (she must have been so uncomfortable). I have used both the XeraCalm AD Lipid-Replenishing Cream and Balm... I like the cream slightly better because it''s easier to apply. LovelySkin Customer
Verified Purchase
Favorite lotion!
This is a repurchase for me. I buy 3 at a time, one for my car, bathroom, and purse! It's the only lotion I can use with my dry, sensitive skin. This was dermatologist-recommended for me, and I will never stop using it! I recommend it for people with sensitive skin. To clarify, I use it only on my body. Mostly on my hands and legs. For my legs, I apply it to damp skin. For hands, apply it dry. LovelySkin Customer
Verified Purchase
Love this!
So soothing on my eczema-prone skin. This product has been a lifesaver this winter! LovelySkin Customer
Verified Purchase
Great for sensitive skin
I was able to use this on my face and neck when I broke out in hives from an allergic reaction. It absorbs well and doesn't leave you greasy. The tube is also a large size. LovelySkin Customer
Verified Purchase
Avene XeraCalm AD Llipid-Replenishing Cream
I use the Avene XeraCalm Balm on my face as a moisturizer which I really like, thought I would give this a try it felt to heavy like diaper rash cream, I will use on my body. Would not purchase again. LovelySkin Customer
Verified Purchase
Great!
I use this on my chest during the day. It absorbs into the skin and does not feel greasy or get on clothes. It does not make me red. If I need extra hydration, I add some argan oil. Great product! XeraCalm
They stopped making the Xera lotion that I was using for extremely dry skin and skin rashes. I was horrified. I called Avene and was told that this was a successor product that absorbed faster. It is and it works. The only issue is that it is extremely difficult to initially get it open for use without spilling quite a bit of the product. They need to re-do the "safety" cap big time. I feel like I spent $20 just opening the product. Someone tell them to fix the problem!!! LovelySkin Customer
Verified Purchase
USE THIS WITH RETINOIDS!
It saves your face's life! Tazorac is the harshest prescription retinoid for psoriasis and acne, and this cream and cleanser completely restore the skin, redness and dryness disappear! It's incredible, and it saves you so much money considering how much you get! Buy it buy it buy it. Heals eczema, dry skin, and it's non-comedogenic!
This is one of the best products out there for damaged skin. It absorbs so well and is non-greasy. This product has rave reviews everywhere, and I can see why. Great value for the money, and I don't mind that you have to squeeze a bit to get product out. It's sterile packaging, and I love it! A+ LovelySkin Customer
Verified Purchase
Smells of absolutely nothing
Its an okay lotion in an airtight canister. Its a little difficult to squeeze while using because its greasy texture. It is a little greasy but sinks in relatively quickly. LovelySkin Customer
Verified Purchase