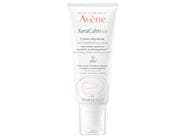 Reviews For
Avene XeraCalm AD Lipid-Replenishing Cream
$34.00
Good Daily Moisturizer
I bought this as I thought my drugstore brand moisturizer wasn't cutting in for my dry, scaly lower leg skin. I think its helped a little and is very creamy and thicker. I'll keep using it and see how it works as spring approaches. I do have a complaint about the packaging. The pump is stiff and hard to get the cream to come out. Not ideal. Beautyjunkie1
Verified Purchase
For parched skin
This is for very dry parched skin. It moisturizes immediately. If using retinol, I highly suggest issuing this right after! Great for sensitive skin
I was able to use this on my face and neck when I broke out in hives from an allergic reaction. It absorbs well and doesn't leave you greasy. The tube is also a large size. LovelySkin Customer
Verified Purchase
XeraCalm
They stopped making the Xera lotion that I was using for extremely dry skin and skin rashes. I was horrified. I called Avene and was told that this was a successor product that absorbed faster. It is and it works. The only issue is that it is extremely difficult to initially get it open for use without spilling quite a bit of the product. They need to re-do the "safety" cap big time. I feel like I spent $20 just opening the product. Someone tell them to fix the problem!!! LovelySkin Customer
Verified Purchase