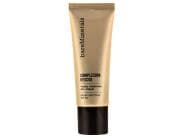 Reviews For
bareMinerals Complexion Rescue - Tinted Hydrating Gel Cream Broad Spectrum SPF 30
My Fave
I've been using bareMinerals since the 90s. This is a great light foundation if you do not need heavy coverage. I'll layer barePro powder over it when I need more coverage. It does not settle in lines and has a dewy finish. Love it
I love this product. I was looking for something that could block blue light, is good for my skin, and provides some coverage... this is it. The color matches me perfectly and doesn't get stuck on my dry patches. I also love that it isn't overly shiny. I will be purchasing again. LovelySkin Customer
Verified Purchase
Old Lady Approved
My skin has become dry and sensitive with age and this product works for me. Love that there's SPF protection and that the subtle coverage doesn't exaggerate wrinkles like a thicker conventional foundation product. I blend 2 colors to get the right match to my coloring but it's pretty sheer....likely easily matched to almost anyone's skin tone. Goes on and blends easily and I'm not left feeling cake-y or sticky. LovelySkin Customer
Verified Purchase
VERY good silicone-free tint
I love this stuff, and I've repurchased several times. It's an affordable, high quality alternative to more expensive makeup—I use it as a light foundation to achieve a more even tone. The formula does not cake on my very dry, sensitive skin. I use fragrance-free, sensitive skin products in a very limited routine, and this fits in year-round. I avoid silicones due to pilling on my dry skin, and I love this squalane/glycerin/+ texture. To help a bit with color: I am a fair neutral skin tone with freckles and rosy cheeks, and the vanilla shade is perfect for me. Does not settle into lines. I tried a lighter shade (birch), which was too light for my skin. Very happy with this product for long-term use!! LovelySkin Customer
Verified Purchase
Big Fan
I have used this product for several years & still love it! It is a nice light option to foundation that is also moisturizing. LovelySkin Customer
Verified Purchase
No better tinted cream
This stuff is great for both aging and young beauties alike. Offers good color selection and blends beautifully without settling into lines. SPF of 30 seals the deal! Sadiedog
Verified Purchase
Lightweight with SPF 30 Protection
I have been wearing the bareMinerals Complexion Rescue for about 3 years now and I absolutely love it! It is lightweight, creamy and works great for coverage! I love that it has an SPF 30 built-in, so it's a great 2-in-1 product for facial coverage and sun protection!!! I would highly recommend it to all. Hydrating
I just purchased my second bottle and rarely do I finish a bottle of anything as I am always trying new products. I really like this! A lot of days I wear just this and blush. It provides a little coverage. LovelySkin Customer
Verified Purchase
Love this stuff
I love the way this goes on! It has a sheer coverage but evens out my skin tone. Natural Glow and SPF together. Amazing!
I love this bareMinerals tinted gel cream. it gives a natural glow to the skin and saves me from UV rays at the same time. This and my favorite lipstick in my bag and I am ready to go. Best moisturizer for everyday use. Great product!
I've been using bareMinerals for years! Complexion Rescue is one of my favorites. rebecaozone
Verified Purchase
My favorite
I have tried many tinted moisturizers, and always come back to bareMinerals. I use this everyday and love that it has SPF included. While moisturizing it also helps even my skin tone, and blend nicely. Also, love that it comes in many different shades so its an easy transition from summer to winter. JennyLH
Verified Purchase
Love This!
I was using a different tinted SPF for years that was pricey and decided to try this one since my mom was using it and loved it. I will be sticking to this from now on! A little goes a long way and I love that it is buildable. I use a single layer for the beach and two layers for a summer night out (along with their powder). Gives you a light, natural look! I have oily/combination skin and this formula works for me. Tiana24
Verified Purchase
Nice Product!
I like this product because it is a great substitute to me applying foundation every day. I think it gives me enough coverage for daily wear. LovelySkin Customer
Verified Purchase
Great tinted moisturizer
Most tinted moisturizers with SPF are very drying but I was pleasantly surprised to find that this did not dry out my skin and it gave me a glow. I am not sure that I got the right shade but it is close enough and next time I will probably try a different one. I still use my moisturizer before applying this, but I would recommend for someone looking for a slight tint and SPF. LovelySkin Customer
Verified Purchase
Good Product
My first time using this product, I like that it's moderately moisturizing, has SPF 30, and gives a nice tint. I got the 4.5 Wheat shade which works, I'm a Light to Medium neutral tone. I either wear it alone with some bronzer and blush or wear a pressed powder foundation over it. As I have mature skin and I do use a serum and/or moisturizer before applying. LovelySkin Customer
Verified Purchase
Lightweight, good coverage
This is my third purchase of this product. I really like that it evens skin tone and provides some coverage of discoloration. I also like that it's hydrating and provides some sun protection. I'm trying a slightly darker tone for the summertime. It seems to be of a different consistency than what I purchased before--more liquid; may not cover quite as well. (I just finished the previous tube so haven't really used the new one much yet.) VStapley
Verified Purchase
Love this product!
This is a perfect alternative to full on foundation. Just enough coverage and I love that the vanilla shade wasn't too yellow toned. Great for every day wear. LovelySkin Customer
Verified Purchase
Light but nice coverage!
I was always afraid to try a so called lighter type moisturizing foundation, afraid it wouldn't give me the amount of coverage I was used to. However, I was so glad I tried this Bare Minerals tinted hydrating gel cream! It gives me great coverage, smooth & silky and the color wheat 4.5 seems like a great universal overall color. I'm on the medium fair side & I'd say this is a tad darker but still blends in just fine. It doesn't cake up or set into my fine lines, just a great foundation. If you want more coverage you just dab more on! Nanners
Verified Purchase
Bare minerals complexion rescue
I've used this product for several years. It's great for when you don't need or have time for full makeup. A little color and SPF. LovelySkin Customer
Verified Purchase
Perfect coverage and light feel
I have tan Caucasian skin tone, and although the tone is perfect, it's just barely too dark for winter but will be perfect in summer! Makes my skin feel smooth and supple! I purchased Tan 07. I'm not a regular foundation wearer, but this is perfect! Raepent1
Verified Purchase
Great Sheer Coverage
I hate makeup that would be considered "foundation." For years, I've used Bare Minerals powders of all types, they have been my go to for makeup. Lately though, I wanted something that would moisturize and give some even-ness to my complexion. I felt that the powders were accentuating my lines. (I'm 47) After trying complexion rescue I'm hooked. It provides minimal coverage and leaves your face with a "dewy glow." You can also use powder to finish or not. Highly recommend. LovelySkin Customer
Verified Purchase
Very hydrating
I use tretinoin and have at times flaky skin. I don't want to use any type of foundation because it makes my skin look worse. So I found this and gave it a try since it says hydrating and love it! All the dry flakiness is gone and it doesn't dry my skin by the end of the day. This truly rescued my dry flaky skin plus gave me good coverage. LovelySkin Customer
Verified Purchase
Best Foundation
I can't wear foundation. for some reason it always looks bad on me. THIS however looks amazing on my skin, gives me an even complexion, and to top it all of it has SPF too. momokam
Verified Purchase
Great moisturizer
I like this tinted moisturizer. It's not too thick but still great coverage and having the SPF is a bonus too! LovelySkin Customer
Verified Purchase