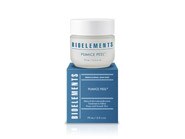 Reviews For
Bioelements Pumice Peel
Made my skin so soft
I love this scrub. It is light and once you use it you are left with baby soft skin. Notteni
Verified Purchase
Best exfoliator!
I've used a number of expensive exfoliators over the years, but I always come back to this one. I have occasionally used Measured Micrograins, which is also good, but my skin needs more the Measured Micrograins offers. Using this about twice a week keeps my face soft and smooth. I just wish it came in a kit with absolute moisture, equalizer, and flashfoam! LovelySkin Customer
Verified Purchase
Perfection
I tried this product two years ago and am a forever customer. During the winter months, my skin get very dull from lack of humidity and cold weather. When I use this product, my skin feels so fresh, clean and dew like. I would highly recommend this product to anyone especially those that feel their skin needs exfoliate on a regular basis. It's gentle enough to use 3x + a week without any abrasiveness. LovelySkin Customer
Verified Purchase
The best
I've been using this for about 4 years, and ever since I discovered it my skin has never been better. It leaves you soft and smooth and gets rid of any flaky patches without leaving you red! It's incredible :) LovelySkin Customer
Verified Purchase
Wonderful
Love this product. Easy to use and is not harsh on your skin but gets the job done of exfoliating. I am new to this brand, but am finding out they have wonderful products. Thanks Lovely Skin for carrying this brand. Best exfoliating product I have used
If you want to remove dry, flaky skin... this Bioelements product is perfect. It really helps improve the overall texture of your skin, leaving in refreshed and feeling wonderful. It is not the most comfortable exfoliator I have ever used, but it sure is effective. Will definitely make this a part of my skincare routine. excellent!
great exfoliator! no sharp edges, a very fine grain. i will purchase this again! Great results
This pumice peel was grainy enough to exfoliate, but leaves your skin smooth to the touch. Great product to use twice a week LovelySkin Customer
Verified Purchase