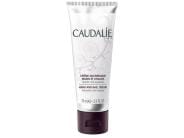 Reviews For
Caudalie Hand and Nail Cream
$15.00
A Fav
Caudalie hand cream is a top hand cream in France and one of my favorites. I'm glad that LovelySkin is now carrying it. The fragrance is not too strong, it's not greasy, and moisturizes well. Love this location
Great product LovelySkin Customer
Verified Purchase
Very moisturizing!
This hand cream hydrates and moisturizes without leaving your hands greasy. Quickly melts into your hands and the smell is pleasant, not at all overpowering. A must for dry hands. Keeps hands soft and nails strong
This product has a nourishing, non-greasy texture that I love. With regular use, my nails are stronger and less brittle. LovelySkin Customer
Verified Purchase
Excellent
It feels so good and does not leave a greasy film. I made my husband, who never uses hand cream, try it and I lost it to him. Will order another one. BEST HAND CREAM!
Caudalie Hand and Nail Cream has a rich and creamy texture and a pleasant grapefruit smell. It absorbs well into the skin and super moisturizes it. One of the best hand creams I have tried; and the price is great! Alex369
Verified Purchase
Excellent Hand Cream
Being a healthcare provider, I wash my hands continually throughout the day. I've had problems with very dry hands. This hand cream is moisturizing but not greasy. It has a pleasant fragrance as well. MelissaGL
Verified Purchase
My Go To Hand Cream
This hand cream is not greasy, which is a plus. It provides sufficient moisture and has a nice smell. Would recommend. My go-to hand cream
I first bought this in a pharmacy in Paris years ago. I find hand creams to be either too greasy or not moisturizing enough. This one is perfect for me. I use it every night before bed and keep a tube at my desk during the day. Lightly scented and just moisturizing enough. LovelySkin Customer
Verified Purchase
Best hand cream ever
I first tried this hand cream after purchasing it in a pharmacy in Reims, France (yes, Caudalie products can be purchased at most any pharmacy in France!) When I ran out, I purchased on the LovelySkin site. The cream is rich but fast absorbing without feeling greasy. It makes my hands feel super soft, and it's great for nails and cuticles too. You will see a difference in your hands and nails. Highly recommend! LovelySkin Customer
Verified Purchase
Caudalie Hand and Nail Cream is Great!
Caudalie Hand and Nail Cream is Great! It works wonderful for my skin and nails! Love this product! LovelySkin Customer
Verified Purchase
Very Nice Hand and Nail Cream
I really like Caudalie hand and nail cream. You only have to use a small amount and your hands feel soft and moist. The hand and nail cream not only repairs but nourishes as well plus protects. The ingredients used are all natural and there is no testing on animals which is something I always look for. I also find the scent of the cream very fresh and pleasant. This is a hand and nail cream that I can afford and will continue using. LovelySkin Customer
Verified Purchase
Wonderful for hands and nails
I got this cream on the advice of Jenny Fox YouTube beauty blogger. She was so right. This cream soaks into your skin and nails and makes them soft and smooth. I have a lot fewer hang nails since using this product. My cuticles are so much more moisturized and less ragged. The smell is a pleasant yet mild orange scent. It is more expensive than a drugstore brand but I feel it's a pampering splurge. I will definitely repurchase. LovelySkin Customer
Verified Purchase
Best Hand Lotion Ever!
I am in my fifties with dry skin. I've tried lots of different hand lotions and, for me, Caudalie Hand and Nail Cream is outstanding. It makes my hands look beautiful without making them feel greasy. I first tried it when traveling in France and was thrilled to find it here in the states. It's a little pricey, but I always find someone with a sale, so I stock up. I've shared it with several friends and family and they love it, too! LovelySkin Customer
Verified Purchase