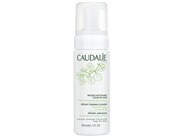 Reviews For
Caudalie Instant Foaming Cleanser
$28.00
Perfect cleanser
Not only do I love this cleanser, my husband likes it too. It smells great and isn't over bearing. I'm use to having to wash my face twice with foam cleansers, but I've learned I don't have to with this one. It doesn't overly dry my skin out like most cleansers. LovelySkin Customer
LovelySkin Employee
Gentle cleanse
Really like this cleanser. Gentle and effective! I have to double cleanse if I am taking my makeup off, but that's not that big of a deal to me. This is the only cleanser I can get my boyfriend to use because it's not very scented and doesn't dry him out. Would recommend! LovelySkin Customer
Verified Purchase
Wonderful
This has been my go to cleanser. I have tried every cleaner under the sun and this is the only one that doesn't cause break outs and it doesn't dry my skin out. I am always tempted to switch to the latest and greatest and I always go back. Dyermaykker
Verified Purchase
Great cleaner
This is the one. I tried many cleaner but this one is really best one. Dose not dry your face and keep soften moisture after use. Highly recommend LovelySkin Customer
Verified Purchase
Gentle Cleanser
This a go to product for me. It's gentle, removes makeup, including eye makeup, completely without leaving your skin feeling tight and dry. LovelySkin Customer
Verified Purchase
Great Cleanser
This cleanser doesn't dry your skin or leave it tight in any way. The foam is light and airy. Would highly recommend for those dry or combination skin. Great face wash
I have only used two face washes ever that did not strip my skin and leave my face feeling dry and irritated. This natural face was very special, and I use it every day. My husband even uses it too! Great product!!! LovelySkin Customer
Verified Purchase
Best Gentle/Thorough Cleanser Around
I received a 1.69 fl oz. sample about 6 months ago and have used it every morning since. Now I'm buying the full size because it is wonderful, and so affordable, and lasts so long. I only need to use two full pumps on a moistened face, and I can wash it in every direction to get all of my pores gently cleaned. Then I scrub-dry with a (cheap) bleach-cleaned wash cloth, and my face looks and feels fantastic. My deep cleaning with a 10% benzoyl peroxide and scrubby wash cloth are for night time in the shower, and twice a week I use Clinician's Complex microdermabrasion cream. I'm 56, acne prone, and my skin is like "butter" after using these products for cleaning. LovelySkin Customer
Verified Purchase
Gentle and effective
I have used this cleanser for years and I could never be without it. I like the feeling of a soap but at my age I need a genlte cleanser. This does the job. It removes makeup and leaves my skin feeling clean, hydrated and not stripped of moisture. The foam allows you to use a small amount and it feels like suds. LovelySkin Customer
Verified Purchase