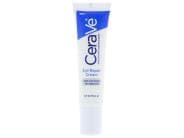 Reviews For
CeraVe Eye Repair Cream
Doesnt burn and moisturizes
Its not the best eye cream, but its the best for the price. It doesnt burn my eyes and thats usually why I have to stop using a product. I can use it with an eye product that has SPF and it still doesnt bother my super sensitive eyes. It takes a little more product to cover my eyes, but its still a bargain. Id buy it again. LovelySkin Customer
Verified Purchase
Great
This is a great inexpensive eye cream which has great ingredients like Niacinamide, ceramides, and Hyaluronic acid. LovelySkin Customer
Verified Purchase
Gives the High-End Eye Creams a Run for the Money!
CeraVe Eye Repair Cream is one of the few drugstore brands in my skincare regime. Its quite emollient, so I need very little even on my very dry skin. Ive used lots of different eye creams since I was 23 (Im 58 now). CeraVe is competitive if not superior to the most high-end eye creams. Now keep in mind that this is a :standard" eye cream, meaning that it does NOT contain retinol, vitamin C, or sunscreen. I use other eye creams for those purposes. It DOES however contain glycerin, jojoba esters, ceramides, hyaluronic acid, almond oil, aloe and vitamin E. I use CeraVe Eye Repair Cream as a moisturizing anti-aging eye cream at night when Im not wanting a retinol eye cream. OK product, fantastic price!
This is a pretty good eye cream. Not quite moisturizing enough for me. However, at this price point, it is worth a shot!