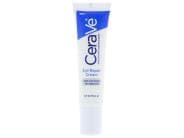 Reviews For
CeraVe Eye Repair Cream
Great
This is a great inexpensive eye cream which has great ingredients like Niacinamide, ceramides, and Hyaluronic acid. LovelySkin Customer
Verified Purchase
Gives the High-End Eye Creams a Run for the Money!
CeraVe Eye Repair Cream is one of the few drugstore brands in my skincare regime. Its quite emollient, so I need very little even on my very dry skin. Ive used lots of different eye creams since I was 23 (Im 58 now). CeraVe is competitive if not superior to the most high-end eye creams. Now keep in mind that this is a :standard" eye cream, meaning that it does NOT contain retinol, vitamin C, or sunscreen. I use other eye creams for those purposes. It DOES however contain glycerin, jojoba esters, ceramides, hyaluronic acid, almond oil, aloe and vitamin E. I use CeraVe Eye Repair Cream as a moisturizing anti-aging eye cream at night when Im not wanting a retinol eye cream.