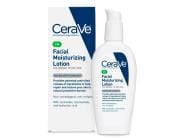 Reviews For
CeraVe Facial Moisturizing Lotion PM
Formula change?
I used to love this product!It was light, moisturizing, and affordable. Sadly, I think CeraVe changed their formula when they changed their packaging. Now it feels heavy and waxy. It clogs my pores and caused an allergic reaction. When I use it, it feels like my skin cant breathe. I dont recommend this for combination, acne-prone skin. Maybe super dry skin thats not prone to spots could use this. Gave me a bad reaction
I thought this was going to be lighter than their moisturizing lotion, but I think the niacinamide ingredient gave me some bad reaction because when I put it on last night my whole face started to itch. Would never buy again.