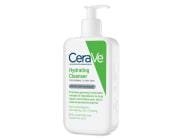 Reviews For
CeraVe Hydrating Cleanser
Great Moisturizing Cleanser
I use this cleanser in the morning and it leave my skin feeling soft and moisturized. It is almost like washing my face with a lotion. It does not burn or irritate my sensitive skin and it helps keep my skin protected in dry winter months. Great
This is great for winter when your skin is dry but it doesnt take off makeup too well. So I usually stick to the foaming cleanser from Cerave. But if you have sensitive skin you will love this cleanser. cleanser
This is my second time buying this product. It keeps my skin hydrated and does not dry it out. The price is also reasonable. LovelySkin Customer
Verified Purchase
Leaves a film
While I like Cerave Foaming Facial Cleanser, I'm not a fan of this hydrating cleanser. It doesnt seem to cleanse my skin at all, and it leaves a film. The only good thing about it is that it is fragrance free. LovelySkin Customer
Verified Purchase
Great Cleanser!
I use this cleanser everyday. It gently moisturizes my skin as it removes makeup and cleanses. I have dry skin that still breaks out occasionally and this is perfect. If you wear a lot of makeup this may not be strong enough to get everything off but it does remove most brands of mascara without stinging my eyes. If you need something that is a little stronger but still gentle the Cereve Foaming is also really good.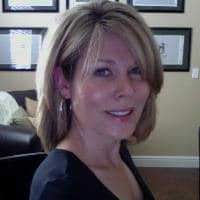 Good product - just not for my daily routine
I think (personally) this product would be great for me as a morning cleanser only. It definitely doesnt tackle the tough job of taking all my makeup off and it doesn't give me the extra clean feeling I like at night. However, this is a light cleanser that is great for my morning routine. Since I have no makeup on and only product from the night before this seems to work well for me on a typical daily morning face wash. LovelySkin Customer
Verified Purchase
just ok
This is an extremely gentle cleanser and maybe just too gentle. It rinses off well but doesn't seem to make my face very clean. I don't have oily skin but i seemed to break out a bit when I first started using it. Now i use it only in the morning with something a little more cleansing in the evening and that seems to work fine. LovelySkin Customer
Verified Purchase
Super Gentle!
This is a very mild, gentle cleanser great for sensitive skin, dry skin like mine, oily, or combination. It's definitely not a makeup remover so it's not good for stripping anything off. I remove my makeup first, then in the shower I use it with a little face exfoliating pad that I got for $2 bucks at Walmart. It makes my face intensely soft, hydrated and smooth. The best part? NO ACNE IN MONTHS, no redness or irritation! No other cleanser or acne medication has ever worked as well. 100% recommended. didn't take anything off!
my skin was dry during winter so i gave this one a try. it didn't take anything off. my makeup up was still on my face. it made my skin soft, tho. Cerave
Recommended by dermatologist for my sons skin. Seems to be making eczema better. Less reddness noted. LovelySkin Customer
Verified Purchase