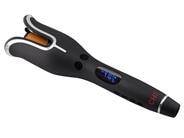 Reviews For
CHI Spin n Curl Ceramic Rotating Curler
i just LOVE this curler!!!!!!!!
It's so much fun and quick when your only curling the bottom of your hair. I show it and try it on all my company. Easy Curls
I hate curling my hair. It's time consuming and frustrating trying to curl the back especially. This new CHI Spin N Curl is amazing! It has made my frustrations go bye bye. I worried it could possibly tangle and pull my hair but it doesn't. Very easy to use and creates gorgeous curls that last all day! Itsjustme
Verified Purchase
So not worth my time and energy!
Had this not been on sale I would not have purchased it. Now that I own it, I feel obligated to use it. However, it is very awkward and time consuming. And results? I have naturally frizzy hair so by the time I'm done, I look like I'm wearing a large mohair beanie with loose, smooth curls underneath. The whole point of the Chi rotating curler is to reduce the amount of work it takes to get smooth curls but in reality, for me, it creates more work than it's worth. LovelySkin Customer
Verified Purchase
AMAZING!
I bought this for my daughter's 13th birthday and she loves it! It is easy to use and really works! And it's safer for little hands to use and manage than regular curling irons. LovelySkin Customer
Verified Purchase
CHI Spin and Curl is not my friend- ...yet!
My hair just tangles, gets stuck, and releases. I keep trying, and then put it away for a few more days. I've tried inserting just small amounts but still haven't gotten the hang of it. I've not ready to give up, but this is not easy. LovelySkin Customer
Verified Purchase
Amazing tool
Perfect curls and so easy to use! Heats up quickly and I love the mint color! Penelope
Verified Purchase
So much easier than a flat iron!
This was just what I needed to get my hair to have nice even curls. I tried using a flat iron but couldn't figure it out so this was my ticket. LovelySkin Customer
Verified Purchase
Cutesy and easy peasy curls
Happy with this product. It shuts off for what it thinks is tangle, as I obviously don't have technique mastered, especially in back of my head. Love the look and hold of my curls! LovelySkin Customer
Verified Purchase
Had to go back!
I have curly hair and I am not so great at styling so i was hoping this would help ease my efforts. I was WRONG!! This came with little instruction, and I could not get my hair wrapped correctly inside. It was a disaster. I was really hoping it would make my life easier, but I ended up returning. LovelySkin Customer
Verified Purchase
Makes curling my hair fool-proof
I'll be the first to admit that I view fixing my hair as a chore. Most of the time, I will pin it up in a clip and go about my day. This product, for me, makes it much easier to create a style that is cute but low-maintenance. I have a shoulder-length bob, and the Chi Spin n Curl creates loose beautiful curls without much effort on my part. LovelySkin Customer
Verified Purchase
I can't believe how well this works!
I recently got my hair cut shoulder-length and designed for wavy curls. This is the third curling iron I purchased trying to get curls that stay all day long. Although I have naturally curly hair I also have naturally frizzy hair, so when I use a normal curling iron the curl is flat before I walk out of the house. Enter this Chi Rotating curling iron. I don't have enough words to describe how fantastic this thing is. It's super easy. It allows you to curl in either direction without having to figure out which angle to hold the iron. It's virtually impossible to burn yourself (hello curling wand). The best part is that it makes perfect curls that last all day long. I did not think this was possible for me. I am in love and I highly recommend this product! LovelySkin Customer
Verified Purchase
CHI AIR SPIN N CURL
This is a great product and works really well. Just make sure hair sections are not too large to avoid tangling. LovelySkin Customer
Verified Purchase
Awesome
It works really well. Curls your hair perfectly and quickly. Awesome product! LovelySkin Customer
Verified Purchase
Beautiful waves
This is the easiest tool to get long loose waves or tighter waves! I have tried curling irons, wands etc. Nothing works like this. I get the best waves with the Chi Air Spin n Curl in just minutes. Hair slides in and slips out. No tangles or snags. I would recommend this to everyone with mid to long lengths. LovelySkin Customer
Verified Purchase
Chi air spin
Perfect hair tool if you want to curl your locks. So easy to use. Highly recommend it. LovelySkin Customer
Verified Purchase