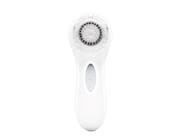 Reviews For
Clarisonic Mia 3 Sonic Cleansing System
Love it!
This is my second Clarisonic and I love how it transforms my face. I use it every couple of days with my regular face wash and an exfoliant. It noticeably brightens and smooths my skin enough for other people to notice. I love the extended timer and the ability to adjust between multiple speeds. LovelySkin Customer
Verified Purchase
Clarisonic Mia 3
Great device and great clean! I have been using this device twice a day with no issues. I love the way it makes my skin feel and look. LovelySkin Customer
Verified Purchase
Revitalizing!
I love my Clarisonic! My Pro gave out on me after several years of excellent service and I was without a Clarisonic for about 1/1/2 months -- the longest in my life! My skin felt so good when I started to use this again! And I love the ability to still charge it when it's not on the drying stand! I feel like an old friend is back! LovelySkin Customer
Verified Purchase
Broken Device, Good Customer Service
When my Clairsonic arrived, I was very excited. The Clairsonic devices I've had in the past are amazing. They really clean and exfoliate your face and leave it smooth and fresh. Once I heard that this device would have more cleaning technology, I was on board. As I opened the package, I saw how everything was nicely laid out and packed. When I took out the device I heard a rattling noise. Because I've had Clairsonics before, I knew this wasn't right. Everything else in the box was fine, it was just a broken device. I immediately called LovelySkin and they handled the situation beautifully. They asked full detailed questions to make sure they understood the problem. Then they sent me directly to Clairsonic to solve the problem. Clairsonic understood the situation and explained that they no longer sell this type any more due to issues. They helped me figure out a new device that was right for me as well as provide easy return shipping. Overall, I was disappointed with the product but the customer service was rave worthy. ecleve11
Verified Purchase
My InstAnt result
Not sure why I have waited 2 years for this product, but long story told short. I purchased a much inexpensive product and thought it could do the trick, without spending the $$. Mind you I wear makeup everyday and we are talking about the kind of makeup that covers your age okay. Anyways, after long time use it didn't seem to help at all. I still had dead skin on my face! Ew, I know. So I did my research with clarisonic and gone through multiple reviews and comparisons with the Foreo products, and I decided with the amount of makeup I wear, I'll try the clarisonic mia3. Of course, I went big and bought the black because its just pretty too! When I received it, good lord Ooohhhh (wink) mighty it was a beaut and it came already charged, like how awesome is that and who did this! It also came with 2 samples I selected with my order, first sample was a 1oz. Clarisonic refreshing gel cleanser and second, 0.5oz Revision brightening facial wash rejuvenating cleanser. I immediately put my new gadget to use and tried it with then Revision cleanser and after one use of exfoliating, even with the amount of makeup caked on my face, I was in awe. Much less dead skin, more radiant and definitely smoother skin. I recommend this product to anyone and because I was so excited, I took the package to my Instagram, as I am a believer in clarisonic giving you a cleaner look. So thank you lovely skin! LovelySkin Customer
Verified Purchase
A MUST HAVE
I finally bought myself a Clarisonic after giving many as gifts. I wish I would have done it sooner. I picked the MIA 3 because it had a drying stand and 3 settings to choose. Ive used it for less than a week, and my skin feels much cleaner. My aesthetician told me she has noticed that her clients who use a Clarisonic have less pore congestion. I look forward to the benefits of long term use.