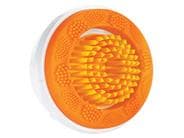 Reviews For
Clarisonic Sonic Exfoliator Brush Head
Love
I felt summer activities: sunscreens, left the pores in my face clogged. I don't use my clarisonic as much as I should but I bought the exfoliator head and love it. Money well spend. Your face feels so clean after you use it. Impressed
Verified Purchase
Excellent product
I've previously used the soft brush head and it did a good job. Now that I have this brush head I can tell the difference in my skin. So much smoother! I only use it twice a week cause it is a stiff brush head. I love the feeling of my skin now. LOVE!
This is not harsh on your face at all but feels very stimulating. I love using it several days a week. LovelySkin Customer
Verified Purchase
Good things from exfoliating brush head
After reading all the reviews about how great this brush head is, I had to see for myself! I admit it's different from all my other brush heads but wow! My skin looks and feels refreshed and rejuvenated! I'm excited to see how soft my skin feels after each use! So glad I got it! Good job AGAIN Clarisonic!! LovelySkin Customer
Verified Purchase
Too Early to Tell
I ordered the exfoliator brush head in December and have used it 4-5 times. The bristles are a lot stiffer than the brushes and take some getting used to. The exfoliator definitely awakens the skin and leaves it feeling very clean. I'll need to use it longer to know if it makes any difference in the condition of my skin. TravelGirl
Verified Purchase
Clarisonic exfoliating brush head
It exfoliates without damaging the skin. It is great to use before applying serums. LovelySkin Customer
Verified Purchase
This one actually works
I like this way better than my regular Clarisonic brush head. This seems to really exfoliate without irritating my skin (which is sensitive). It does give me a nice glow. Great brush
This exfoliating brush works fantastic. My skin feels so clean and soft after each use. I highly recommend this. Jenniferne
Verified Purchase
Just Recieved and WOW!!!!
I just received this and decided to use my exfoliator with this brush and Wow! My face felt so revived, I think this might be my go to brush at least once a day. I was not expecting this facial massage. Paulsgirl
Verified Purchase
A GREAT OPTION!
This brush head is a great addition to my other Clarisonic brush heads. It is a bit hard, but it does leave my skin glowing after use. It is easy to clean and I feel it may even be a bit more sanitary than the other heads. LovelySkin Customer
Verified Purchase
Just what I was looking for.
I needed a Clarisonic brush that exfoliates my skin, and this one fits the bill. More effective than my other brushes, it leaves my skin glowing and clean. I use this a few times a week and am very happy with my purchase. LovelySkin Customer
Verified Purchase
Exfoliator brush
Amazingly good!! Milastar
Verified Purchase
Excellent for exfoliating!
I use this brush head 1-2 times per week to exfoliate. Love it! LovelySkin Customer
Verified Purchase
Just perfection!!!
Out of all my Clarisonic Brushes, and I have tried quit a few of them this one is definitely my favorite. I feel my skin gets the massage, and the stimulation along with deep pore cleaning. I feel it is very effective with exfoliation. definitely a keeper! LovelySkin Customer
Verified Purchase
Effective
It's a little firmer than expected, soft to touch but when in action, it's firm. But, I love it. I just have to get used to it, and now, it's fine. Love how my skin looks. LovelySkin Customer
Verified Purchase