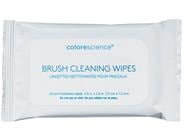 Reviews For
Colorescience Brush Cleaning Wipes
$14.00
Great cleansing towelette
I use this for my Sunforgetable brush on spf, really like it. brightparadise
Verified Purchase
Great product
Good for every time use, simple to use! Jessbshelby
Verified Purchase
Great for "on Set"
I needed something to clean my brushes while on set for touch-ups and this works great! I will be buying a few more KelleyP
Verified Purchase
Great Brush Cleaning Wipes!
Really love having these wipes for everyday use and especially when traveling. They do a good job keeping brushes fresh. However, you will still need to actually wash your brushes as needed to keep them really super clean. Hope Colorscience never discontinues this product! LovelySkin Customer
Verified Purchase
Handy Wipes
cleans brush very well, also can travel with them, very easy to use, highly recommend sassycat1
Verified Purchase
Glad to have these
Since the Colorscience brushes cannot get wet, this is the only way to clean them. I love everything Colorscience! Lindsay
Verified Purchase
Great for travel!
Very pleased with these makeup brush wipes for travel! When at home, my habit is to spray my brushes each time I use them. I'm just particular that way. So these are perfect for me when on the go! Teresa1955
Verified Purchase
Easy to use
These wipes are easy to use and effective. Cleaning brushes is not the hassle it once was. LovelySkin Customer
Verified Purchase
Great for Travel
These handy little wipes are useful when you are on the go or traveling and need to clean the brush on your Colorscience Sunforgettable, which is also what I use, but I have oily skin so the brush needs to be cleaned on a regular basis. I think they may be discontinuing them so stock up!😊 LovelySkin Customer
Verified Purchase
Awesome wipes!!
These things are just down right handy. I just wish they were more in the pack. Good to take on vacation or trips. LovelySkin Customer
Verified Purchase