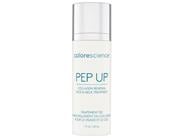 Reviews For
Colorescience Pep Up Collagen Renewal Face & Neck Treatment
$169.00 LovelySkin Customer
Verified Purchase
Using this to achieve younger appearance
This treatment provides a good dose of moisture before I apply a proper moisturizer. It's given me a younger appearance after a couple weeks using this. I like using this at night as a restorative treatment. Not sure yet
The lotion goes on quite nicely- and smells lovely. However, I am not sure that it is actually making any difference at all. Will have to finish and update later. LovelySkin Customer
Verified Purchase
Plumps up skin
I haven't been using this product very long, but I think I notice a difference already. It seems to stimulate my skin and give it a more plumb and youthful glow. I can feel it work when applied. My skin is even a little red after applying, which goes away. AnnetteZ
Verified Purchase
Not sure yet!
I was very excited to try this product. It was pretty expensive but I believe that you only carry excellent products. I researched it first and read the reviews as well. I love the texture of it. Not a fan of the smell. I noticed I was breaking out when I used it so I backed away from it. I will revisit using the product and hope that I see a visible difference without breaking out. LovelySkin Customer
Verified Purchase
colorescience pep up Collagen renewal face and neck treatment
I really like this product! It seems to really brighten up and smooth my skin. Not super greasy either. I apply it after my vitamin C serum, then apply Pep Up and then my colorescience sunscreen mineral glow- my skin looks great! Would highly recommend! I am 55 :) Colorescience Pep up collagen Renewal face and neck treatment
I applied this pep up after my obagi Vit C serum in the morning. Followed by sunforgettable total protection face shield bronze, followed by berry cream blush on and final application 50 sunscreen brush on shield powder. The pep up is readily absorbed makes my face and neck soft . Maganda
Verified Purchase
Good but doesn't deliver in the eye area
Love this for my neck, especially--but I haven't noticed any difference around my eye and cheek area. Neck treatment
I bought this product strictly for neck use. I am thrilled! I can already see a difference in the plumping action! LovelySkin Customer
Verified Purchase
noticeable results, strange odor
I have used Pep Up for several weeks and there's a noticeable difference in the texture and firmness of my skin, especially on my neck and cheeks. 4 stars because the latest bottle I received from Lovely Skin has a noticeable odor, which I don't like, but the product seems to work as usual. Terrific
My dermatologist recommended. I'm very pleased with the results. LovelySkin Customer
Verified Purchase
I think it works.
I just finished my first bottle. I plan to buy more. My skin tingles a bit when I use this. I can't say for sure what that means, but I hope that means it's ramping up collagen production. LovelySkin Customer
Verified Purchase
AMAZING
So happy with my purchase of Colorscience Pep Up Collagen. It has truly made my skin glow! Will definitely be repurchasing. LovelySkin Customer
Verified Purchase
Colorescience Pep Up Collagen Renewal Face & Neck Treatment
I loved this serum...very light first step after face washing, plumps the skin a little. Fragrance-free too! which is a rare find with other hi-end brands nowadays. Loved it more than TNS serum. But needs to be followed with heavier moisturizer. LovelySkin Customer
Verified Purchase
Pep Up
I like this serum, I haven't been using it long enough to see results but it is moisturizing without being to heavy on my skin. Great for under make up and does not cause break outs. Katie92
Verified Purchase
Love this
I received this in a little gift bag from Dr Schlessinger's office-all I can say is WOW. I use the Colorescience bronzing and brightening perfectors as my daily makeup. The Pep Up treatment is a wonderful addition to my daily regimen. Thanks so much for this amazing gift.