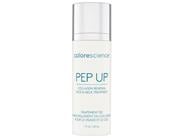 Reviews For
Colorescience Pep Up Collagen Renewal Face & Neck Treatment
$159.00
Plumps up skin
I haven't been using this product very long, but I think I notice a difference already. It seems to stimulate my skin and give it a more plumb and youthful glow. I can feel it work when applied. My skin is even a little red after applying, which goes away. AnnetteZ
Verified Purchase
Good but doesn't deliver in the eye area
Love this for my neck, especially--but I haven't noticed any difference around my eye and cheek area. noticeable results, strange odor
I have used Pep Up for several weeks and there's a noticeable difference in the texture and firmness of my skin, especially on my neck and cheeks. 4 stars because the latest bottle I received from Lovely Skin has a noticeable odor, which I don't like, but the product seems to work as usual. Pep Up
I like this serum, I haven't been using it long enough to see results but it is moisturizing without being to heavy on my skin. Great for under make up and does not cause break outs. Katie92
Verified Purchase