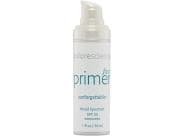 Reviews For
Colorescience Sunforgettable Face Primer SPF 30
37 Results
Great Product
Really helps set a smooth surface for the application of the powder base. Makes the skin appear flawless. Protects and Evens tone
This is the second time purchasing this product. Originally read about it in a magazine. It does what it says, it protects your skin from the harmful rays as well as evens your skin tone. It's interesting because there is only one shade available and yet it seems to match perfectly. My only complaint is that I used it so sparingly (you don't need much) that I still had some leftover after almost a year and it's consistency had changed and was not usable. I intend to use it more often this time around. LovelySkin Customer
Verified Purchase
nice!
This feels great on my face. The texture is sort of like whipped cream or mousse - it feels really light and disappears into my skin. I have a lot of red bumps so I still like to wear foundation over the top, but it makes the end result look much more smooth. And, importantly, it hasn't made my itchy, bumpy skin any worse, as many other products have done. This product is also highly rated by the Environmental Working Group for actually living up to its sun protection claims and not containing harmful chemicals. LovelySkin Customer
Verified Purchase
Nice primer, plus SPF
So far I really like this primer. It goes on very smoothly and gives me a little coverage while also giving some sun protection. No scent or eye irritation from the SPF that I sometimes get. I have used it alone with additional powder and liked the results. The only thing I find a bother is that I seem to need to blot in order to properly apply concealer with out it running. Would definitely recommend! LovelySkin Customer
Verified Purchase
easy to use sun protection
This is an easy to apply product that blends well with fair skin and protects all day. I have dry skin so apply moisture first. LovelySkin Customer
Verified Purchase
Great Primer, super soft hand
Been using this product for almost a year. Love how soft it makes your skin feel, and like that it doesn't leave a heavy feeling on your skin. I use this under the Colorscience 50 spf Pro Brush as my everyday sun protection. I haven't used foundation since, since this does the job. LovelySkin Customer
Verified Purchase
First time primer user
I just started using a primer and liked the fact this had a high spf. At first I was worried about the tint being too light but it evened out the skin. I still used foundation over it not yet tried it alone. I got compliments on my skin. I need more time using this product before I can give it the highest rating and would like to see it in a bit darker tint. LovelySkin Customer
Verified Purchase
Best everyday sunscreen
Love this product so much that I always keep a spare so I don't run out. It makes your skin look better-- smaller pores, even skin tone-- while it protects from the sun. It's great to wear alone, but it's also a fantastic make-up primer, because it smooths. The texture seems odd at first, but trust me, you'll grow to love it. The only negative is that the pump bottle doesn't allow you to see how much product you have left (which is why I keep a spare). LovelySkin Customer
Verified Purchase
Love this primer!
This primer is so light and silky and it really helps even out my skin LovelySkin Customer
Verified Purchase
Excellent Primer/Sunscreen!
This primer seems to have it all. It hydrates and protects my skin while providing just the right amount of color so I can apply any type of pressed or loose powder after applying the primer. I have gotten so many compliments on how good I look not only from my immediate family, but also from complete strangers! I would highly recommend this product to anyone who is truly trying to achieve maximum coverage with a little application. LovelySkin Customer
Verified Purchase
Great Primer with Sunscreen
It really creates a nice soft protection on your skin making it easier to wear with or without makeup. It also does not contain harmful ingredients. I really like using it. LovelySkin Customer
Verified Purchase
Super Smooth Skin
This is perfect for the summer. You can wear without any other makeup. It is very soothing. Slightly tinted so it smoothes your skin and makes your skin look great and like you have nothing on. Absolutely recommend.