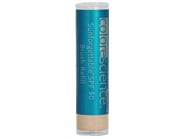 Reviews For
Colorescience Sunforgettable Mineral Sunscreen Brush Refill SPF 50
My favorite sunscreen powder
This is the best SPF powder that I have tried. I like the extra physical protection it gives over my regular liquid sunscreen. The medium color works well with my medium skin tone. The handy brush reminds me to touch up and I can do so conveniently by having one in my bag and one in my car. I have used this many times during long flights (intense sun coming into the airplane) and layovers. Only 1/2 Full - Teeny Tiny Lipstick size Tube
Nowhere, but in the specs, does your LovelySkin.com web site say how little of this powder you are actually buying and then it only tells you in grams - 6 g. to be specific ... (which the tube tells you is really only 2/10 of an ounce or about half of its lipstick size tube). I usually do a pretty good job shopping for my wife on the web ... but not this time and it was too late for April fools day so I couldnt even give it as a joke! LovelySkin Customer
Verified Purchase
Very convenient!
I like the idea of the convenience factor for the SPF50. I ordered this so I could take with me to Key West. I am hoping it lives up to my expectations. Stay tuned. I know this for sure, the color is spot on. I bough the medium because I tend to wear a lighter tinted moisturizer and for the summer, i thought the medium would give me a summer glow!
VeeVee44
Verified Purchase
Absolute Best In All Categories!
Ive been using Colorescience Sunforgettable Mineral Sunscreen for years and it is without a doubt the best sunscreen on the planet. I apply it daily and its invisible on the skin and I use no other powder. I actually prefer buying the refill and use it to touch up some of the occasional blemishes with a small make up brush and it works like a charm and matches my skin tone perfectly. My husband and I were just skiing in Breckenridge in the elements at over 11,000 feet and he applied his messy liquid sunscreen and I applied my Colorescience and at the end of the day and as always Colorescience wins hands down. Its absolutely amazing that it lasts throughout the elements whether its snow, wind, rain or swimming and Ill never use anything else and my husband has switched, too! No more liquid messy sunscreen for him! LovelySkin Customer
Verified Purchase
Best Sunscreen
I have been using this sunscreen for years and have recommended it to many friends. I use it for all outdoor activities including snow skiing and water sports. The refills allow you to get extra usage from the brush instead of having to replace it every time the powder runs out. I typically refill the brush one or twice before replacing. LovelySkin Customer
Verified Purchase
Colorscience Sunforgettable
Love this product! As Ive learned, sunscreen needs to be re-applied every two hours or so to be effective as sun protection. The Colorscience product has been the easiest way to do this - convenient, and a nice finishing touch to makeup as well. I usually apply Obagi matte suncreen first, Colorscience Sunforgettable next, then a touch of bronzer... and done until the next application. The powder provides a nice finish - a bit of a glow, but matte in the sense that I dont get the greasies right away. I can reapply throughout the day without ever feeling like too much is building up on my face. My only concern is the price point - well see how far one container of powder goes. LovelySkin Customer
Verified Purchase
Fast, easy, clean sunscreen.
So easy to apply. Nice finish, no fuss, no messy creams. Use the primer first for added protection and to even skin tone. Just refill the brush applicator and apply. LovelySkin Customer
Verified Purchase
Dont forget your Sunforgettable!
By far the most convenient SPF especially for us girls who do not want to mess up our makeup by reapplying a creamy sunscreen. The applicator brush makes it user friendly and can be applied like a finishing powder throughout the day. The refills make it cost effective. Teresa1955
Verified Purchase
Best SPF ever!
Im super allergic to most SPF and have found that this powder does the trick.. Now that I am getting older I was happy to find it in SPF 50 and it goes on naturally and mixes perfectly with my mineral veil. I have stopped using a separate liquid foundation altogether because of the great results it has also given to my skin!..Which for me as a person with acne prone skin (cystic acne no less), is no small feat!... LovelySkin Customer
Verified Purchase
My favorite face powder...great sunscreen protection
I have been using this for 2 years now and would not use anything else. It makes the need for spf lotion obsolete and gives my face that oil free/polished look. I love that it comes in convenient refils for my brush...the brush and powder in one make it so convenient to carry in your purse for touch ups. You do need to clean the brush, but this is easy with their brush cleaner spray! LovelySkin Customer
Verified Purchase
Different than the SFP 30
This is thicker and chalkier than the SPF 30. Also, I ordered the Medium color in both and the SPF 50 is more orange than the SPF 30. I like the 30 better. LovelySkin Customer
Verified Purchase
Great sunscreen for oily skin!
I absolutely love the mineral sunscreen products from Colorescience. I have oily skin and I do not like putting on liquid sunscreen as it just makes my face feel greasy. This stuff works fantastically, goes great under makeup, does not break me out, and does not make my face shiny. I wont use any other sunscreen. (side note - When I first started using it, I missed a spot on my face near my hairline. After a day at a track and field event for the kiddos, my face was not burned, but that little area I missed was nice and red. I was a believer after that.) LovelySkin Customer
Verified Purchase
Great protection
I love this product! I even use it as my regular powder to set my make- up. LovelySkin Customer
Verified Purchase
Great Product!
This is wonderful sun protection that you can carry around and re-apply without messing up your make-up. It provides a smooth, soft coverage for your face. I also love how you can purchase re-fills without having to buy the brush so I can save money. LovelySkin Customer
Verified Purchase
Use often
I love the Sunforgetable sunscreen with SPF 50. I use it often and like that I get nice coverage and great protection from the sun. I sometimes mix colors and blend accordingly for a custom color. The price of the refillable is great for what you get, and lasts quite a while. LovelySkin Customer
Verified Purchase
My favorite sunblock
easy to use and the clear color doesnt show on your clothes when you dust your decollete and neck LovelySkin Customer
Verified Purchase
great product!
I have used colorscience sunforgettable daily for the last year and a half and must say there is no sunscreen like it! I am fair skinned and freckle easily. I believe this has prevented new freckles from popping up. It's SUPER easy to use, evens my completion, feels like nothing, and does not irritate my skin or eyes at all. No other product has made me feel as "safe" when im out in the sun. Highly recommend sunforgettable spf 50 products! LovelySkin Customer
Verified Purchase
perfect sunscreen!
I love love love this powder sunscreen by colorescience! You can put it on several times a day if necessary to make sure you are getting the right coverage throughout the day, and it's so easy to use. You need to make sure to get the brush cleaner too in order to keep your brush clean and the bristles soft. The color options for the SPF 50 powder are different than for SPF 30, so make sure to adjust accordingly. The fair option for SPF 50 has much more color to it than the SPF 30 version. LovelySkin Customer
Verified Purchase
Colorscience Sunforgettable powder SPF 50
A great value and it really works! LovelySkin Customer
Verified Purchase
Great sunscreen
easy to apply and works fantastically! LovelySkin Customer
Verified Purchase
great sunscreen!
a Must! easy to carry everywhere and it works! after its use, i don't get additional sun spots LovelySkin Customer
Verified Purchase
Great sheer product!
I needed a mineral make up and was able to try this one. I loved it. Sheer and not "sparkly" great for dry skin. Love the fact it can be refilled. Mineral Powder
I love the lightness of the product and how it looks very transluscent on the skin evening skin tone without looking like a cover. LovelySkin Customer
Verified Purchase
Recommended by my dermatologist
I tried this powder product because lotion sunscreens clog my pores and create little bumps on the surface. I am completely satisfied that it is protecting my skin. I just re-ordered and plan to continue using this product. I love the coverage and it doesn't cause breakouts. LovelySkin Customer
Verified Purchase
Excellent makeup!
Colorescience Pro has become my favorite makeup line ever since I tried this loose powder! It is lightweight and when combined with Colorescience Primer makes for a great matte and natural finish. Wonderful line of makeup! LovelySkin Customer
Verified Purchase