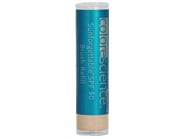 Reviews For
Colorescience Sunforgettable Mineral Sunscreen Brush Refill SPF 50
Great!
Love the retractable brush! LovelySkin Customer
Verified Purchase
Great for kids!
My daughter has a port wine stain on her face and needs sun protection. She doesn't protest the "tickle brush" at all, and I feel good about the protection she's getting. Actually heard about these at a dermatology lecture. Great product
Good coverage and great protection from the sun, too. LovelySkin Customer
Verified Purchase
Not for fair skin
I love Sunforgettable SPF 30, and as a person with ivory skin that burns easily, I looked forward to using this product. However, the color of the Fair-All Clear is very different from the SPF 30 version. It is much darker and quite orange in comparison. If you have ivory skin, this product will make your face look wrong -- orange-ish, as if you are wearing the wrong color foundation. When I first received the product, I called customer service to ask whether perhaps the item I received was mislabled and was told no, and that the product is "so sheer" that it would look the same once applied. I knew better and should have returned it. If you have a medium complexion or darker, this product is probably great! LovelySkin Customer
Verified Purchase
Love this sunscreen!!!
This is my third vial of the Colorscience refill. It is very easy to apply with a semi-matte finish. Not too sure about the water resistant part, but I use it mainly out of the pool. Makes a great finishing powder. It protects very well. I will be purchasing this item again. LovelySkin Customer
Verified Purchase
Colorscience Pro Sunforgettable SPF 50
This is the only sunscreen that doesn't make my face breakout. The almost clear color works like make up and doesn't turn your face white or greasy. I have purchased this product for years and was very alarmed when the new packaging of this product arrived and it was so small. I thought like everything I was paying the same for less. But I compared the new packaging to the prior ones and it contains the same amount of product. LovelySkin Customer
Verified Purchase
Great Product!
I love Colorescience! I have melasma and this product works great as far as providing protection from the sun and concealing my hyperpigmented areas. LovelySkin Customer
Verified Purchase
It stays on!
I love to be outdoors but hate the feel of most sunscreens on my skin. This product allows you to do your normal makeup and still be protected. LovelySkin Customer
Verified Purchase
Awesome Sunscreen!
This product is the best sunscreen I have ever used! I am on my 3rd refill! I live in South Florida. I have suffered from dark spots and hyperpigmentation ever since the birth of my children. With this powder I get no dark spots while in the sun! On days that Ill be outside I wear this instead of foundation!After moisturizer I use the Colorescience Wild to Mild Primer (also awesome) then the Powder Sunscreen. No Foundation needed! LovelySkin Customer
Verified Purchase
Multitasker!
I actually bought the refill without buying the brush because I like using it as a loose powder. I pour some into a loose powder container and use it to top off my sunscreen throughout the day. Also, since so many of the physical sunscreens leave a white cast, I mix a little of the powder into my sunscreen to tint it, perfect custom tinted sunscreen! LovelySkin Customer
Verified Purchase
Green!
I love that it is easy to refill brush/applicator that is affordable and does not have much waste! Another benefit to colorescience products! LovelySkin Customer
Verified Purchase
Best sunscreen ever!
Living in Phoenix I need sunscreen on every day. This lets me protect my skin without feeling greasy or using any scary chemical sunblock LovelySkin Customer
Verified Purchase
Two for the Price of One Product
Along with a lipstick all you need in your day purse is this product. Its your powder for quick touch ups and to reapply Sunblock all in one easy step. LovelySkin Customer
Verified Purchase
Efficient, Easy, Excellent!
The refills for the Colorcsience brushes are easy to use and they provide just the right amount of product. By sliding into the refill chamber on the brush there is no spill, mess, or waste. I appreciate the thought, planning, and packaging that has so obviously gone into the Colorescience products. All this and great sun protection, too! LovelySkin Customer
Verified Purchase
Amazing product!
I was first introduced to this product by my dermatologist. After advisng him that I break out in a rash after applying any type of sunscreen on the market, he suggested I try Colorscience. I was truly amazed. I tried it for the first time during a trip to Florida. I did not get a rash, a burn or blister during swimming and activities in the sun. I have since used it while vacationing in Mexico and the Dominican Republic where the sun is intense. I highly recommend this product. Easy to use, not messy or greasy. I have have my entire family using this product. LovelySkin Customer
Verified Purchase
perfect for summer time
I have used many brands of sunblocks - this one works very good and is perfect for summer time. I go out for hiking a lot this summer and this sunblock powder never irritate my acne-prone skin. LovelySkin Customer
Verified Purchase