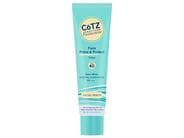 Reviews For
CoTZ Face Prime & Protect SPF 40 - Tinted
$26.50
48 Results
Never received it!!!!
It's been so long since I ordered this I completely forgot about it. I've never received it. The product is great because I tried at the sample. I'm not sure what the full-size will be like. LovelySkin Customer
Verified Purchase
Excellent spf for fungal prones!
For years, I avoided cyclopentasiloxane based products. I was convinced that it triggered my seborrheic dermatitis. However, in the past year, I've been revamping my skincare routine based on "fungal safe" products and the Cotz spf always seems to figure prominently on that list. I decided to take a chance and I'm so glad that I did. I use the untinted for my neck and the tinted on my face. The texture is very different. Someone described it as a bit like peanut butter. But no worries, it applies like a dream and dries completely matte. And it's easy to reapply every two hours when needed, especially at the beach. Even my husband, who is an avid cyclist, likes using it. Thumbs up from me! LovelySkin Customer
Verified Purchase
Love this stuff!
I use this every day. It is great alone or under makeup. Matte
This is a great base! And love that it is 40 spf. It is super matte and a great primer for a base layer. Or a quick coverage for everyday use. LovelySkin Customer
Verified Purchase
Non-Greasifier!
I wear this product on top of another sunscreen that makes my skin both white and greasy looking. The Cotz SPF primer mattifies this effect beautifully, and subtly tints to remove the case from the other sunscreen. I have pretty fair skin and was worried about the color of this tint when it first came out of the tube pretty dark. However, after applying to my skin, it blends in wonderfully! LovelySkin Customer
Verified Purchase
Sweat proof!
I have used Cotz tinted sunscreen for years and recommend it to everyone I know. It's gives a skin blurring effect and evens skin tone. I wear instead of make up every day. Best of all, it's the only sunscreen I've found that does not run and sting my eyes when I exercise outdoors. ChristineR
Verified Purchase
Goes on smooth and even
I really like this product. It feels very silky and light on my skin. The tint is also a beautiful color. However, the week after I used it I had breakouts which I haven't had all season. My breakouts could be from the heat, but that is why I didn't rate this product higher. LovelySkin Customer
Verified Purchase
Made me a little oily
I have fairly oily skin. Did ok when wearing alone with setting powder, but when i tried to layer foundation over it, my makeup slipped around everywhere and wore off very easily. LovelySkin Customer
Verified Purchase
My Morning Routine with CoTZ
I love using CoTZ face prime and sunscreen. It covers spots, it's smooth and creamy and protects me from UV rays. Just makes my skin look much better while being protected. LovelySkin Customer
Verified Purchase
Includes Primer & Tint
It's a 3-in-1 product. If I don't want to wear makeup, it gives just enough tint and still has sunscreen. Then if I do wear makeup it acts a primer under it. I've used for several years. Packaging was recently updated but product remains the same. Very sheer matte
The color blends nicely but it doesn't cover and it's very sheer and matte. Highly pigmented, but hard to apply.
This is a very silicone-textured sunscreen. It is highly pigmented and has a medium color with orange undertones. Because it is so pigmented, it is easy to see streaks where you've applied it unevenly. I always had a hard time getting the streaks to go away, and could not really use it as a primer as it would slide when I applied makeup. LovelySkin Customer
Verified Purchase
Tinted non-greasy sunscreen for everyday wear
I love this non-greasy formula for everyday wear. Pretty thick but not after you cream it in the palm of your hand before applying. I use it everyday after moisturizing my face. I do not use any other makeup on top. I live in a hot, humid climate and it works for me. Plugger
Verified Purchase
Love It!
I have oily skin and this is perfect for keeping the oil at bay. It goes on so smooth and stays that way all day. Has just the right amount of tint. The sunscreen in it is very effective. Alwayslooking
Verified Purchase
Smooth matt finish-No need for foundation!
I have tried all kinds of sunscreens but none come close to this one! Goes on silky smooth and the tint is just right, I don't need foundation at all. LovelySkin Customer
Verified Purchase
Awesome Product
I have oily skin that is also sensitive. It's very hard to find products that work for my face, especially those with sunscreen. I have tried many other brands of this same type of product and none of them have worked like this one. It goes on easily and leaves a nice matte finish. The tint blends with my skin and can be worn as a foundation. I am very pleased with it so far and am so glad I tried it! LovelySkin Customer
Verified Purchase
Like makeup, but not
This sunscreen makes it look like I'm wearing makeup, but has the bonus of added SPF. I use it on top of another sunscreen that makes my face look oily, and this turns the shine into a nice matte finish Great primer
This works well under makeup as a primer, and has benefit of SPF. I was concerned the color wouldn't blend with my fair skin tone, but I was pleasantly surprised; it blends beautifully. I left off one star due to it making my skin feel less moisturized, but I can compensate by using additional moisturizer prior to applying. Love this!
Two products in one! Primer and sunscreen ! I apply it before foundation, and my skin looks great! Great sunscreen
I love the smooth texture. It spreads easily. And, there is no "white face" look of many sunblocks. I will buy this again. LovelySkin Customer
Verified Purchase
Unbelievable
I have tried so many tinted and untinted sunscreens and few work for my 57 year old combination skin. I have few wrinkles but large pores, and I am always battling against shine. This is truly unbelievable, sets very quickly to an attractive matte finish, blurs pores without emphasizing drier areas, does not budge, keeps oily shine at bay AND being a physical sunscreen, it is perfect for sensitive skin. Looks very dark out of the tube but blends well, though likely would be a bit too deep if you have fair skin (mine is light cool). A definite keeper! LovelySkin Customer
Verified Purchase
best sunscreen ever
I can easily apply this underneath makeup and my makeup looks good with this sunscreen...it does not have white cast and does not make my face greasy ..love this sunscreen and highly recommend this Tanzina
Verified Purchase
Best Sunscreen Ever!
If you live in a humid climate and you have oily skin, this is THE sunscreen for you. It's primer consistency makes my makeup last the whole day. I no longer need to blot my skin. The only sunscreen that protects me from further pigmentation. The iron oxides are a plus too since it protects you from blue light. great sunscreen
I got this by accident thinking it was a different product by CoTZ but ended up loving it just as much. It goes on smooth and gets tacky which helps for when applying makeup and no white cast, and slightly blurs pores and face. rubycardoso
Verified Purchase
Tint is too dark
I have purchased CoTZ before and really liked it. I thought I would try it with the added primer but the tint in this product is too dark for me. The feel of it on my skin is great, but the tint makes my face look orange. I will not purchase this again. LovelySkin Customer
Verified Purchase