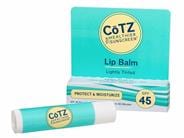 Reviews For
CoTZ Lightly Tinted Lip Balm SPF 45
$8.00
60 Results
Great lip spf!
Another winner from Cotz. The lip balm applies like a dream with a beautiful finish. So happy I decided to try it. It'll be a definite repurchase. LovelySkin Customer
Verified Purchase
Good lip sunscreen
It is a good lip sunscreen that is also moisturizing. I use it daily whenever I go outside. Despite the generous tint, it leaves a dull grey look on the lips though, which doesn't bother me though. Will be a staple in my regimen. LovelySkin Customer
Verified Purchase
So Far, Very Good
I have extremely sensitive skin and breakout easily. I was hesitant at first to order CoTZ but decided to give it a try. I was pleasantly surprised as it did not appear to cause any sensitivity. I have only used it 3 times, but so far, I am delighted with the feel and tint, not to mention the SPF 45. Hopefully, when the pandemic is better controlled, I will have the chance to use it more since I have been staying home lately. Glad I found this product! Summer go to
Great lip balm. Goes on smoothly, hydrates lips and gives a very subtle glow. No feathering or clumping. LovelySkin Customer
Verified Purchase
Finally!!!
I have been using SPF lip products for years. The skin on our lips is so thin and delicate, we can not forget to protect it. I always use mineral based SPF, but it has been so difficult finding a good lip one. They are usually very dry and chalky and contain a low level of spf (less than 30.) This one checks all the boxes: SPF 45, mineral based and it is very hydrating. Love! LovelySkin Customer
Verified Purchase
OK
I WAS LOOKING FOR A SUNSCREEN FOR MY LIPS AND THIS WAS RECOMMENDED BY A DERMATOLOGIST. IT DOESN'T SEEM TO STAY ON LONG AND I WAS HOPING THE PRODUCT WOULD BE MORE PIGMENTED. LovelySkin Customer
Verified Purchase
Light tint, odd taste -- but it's sunscreen.
This lip balm tastes like sunscreen only barely. The tint is light and not really noticeable. It did not dry my lips out like other lip sunscreens, but I am not sure I would call it moisturizing. Lasts a long time. LovelySkin Customer
Verified Purchase
Sun protection
I bought this after my aunt had skin cancer on her lip which changed the shape of her mouth from the surgery. I keep this in my purse for driving or anytime I'm in the sun. I'm very fair and was looking for a spf lipbalm and glad it has a high spf. It does have a tint but it's not a big deal to me. Also bought one for my mother. Thank you lovely skin for the discount and free and fast shipping. LovelySkin Customer
Verified Purchase
Waterproof
This tinted balm really stays put, even when you drink water. Color is okay. At least it doesn't turn white like most high SPF balms. peggymcquillen
Verified Purchase
CoTZ Lightly Tinted Lip Balm
The lip balm is great. It goes on smoothly and has a slight shimmer. It doesn't really have a colour so should work for any skin type. COTZ Lightly Tinted Lip Balm
The Lip Balm protects my lips during the hot Florida sun! I am grateful that I learned of this product. Sarasota
Verified Purchase
Tinted lip Balm SPF
Good product, I think i would like more tint! Goes on nicely, and seems to soften my lips. Yes I would like more color! Weird color, but still fantastic
The color is brown, which is kind of weird for lips. But I still really like it. Better than many other zinc lip sunscreens. Delicious
This lip balm goes on smooth, protects from sun damage, and smells amazing. This is my new go-to lip balm. I keep one in my car and one on me at all times. I'm glad this lip balm lives up to its hype! Great Sunscreen for Lips
Great product, great lip protection, smooth, easy to apply and feels great on the lips without any funny flavors. This is the best sunscreen for lips that I have used with this high protection. Excellent
Verified Purchase
My favorite zinc oxide lip sunscreen
Moisturizes and does not irritate. Tint prevents lips from looking white. High SPF. Even my kids like using it because it smells good. LovelySkin Customer
Verified Purchase
Very nice
Hydrating and comfortable, almost imperceptible tint, just a little flesh toned. LovelySkin Customer
Verified Purchase
Smooth with sun protection
I'm always using lip balm in the winter, and if a lip balm has sunscreen, that makes it twice as useful to me. I'm pleased with this product. It is moisturizing and easy to use. Cynders
Verified Purchase
Perfect (almost)
This SPF lip balm is so handy to have in your handbag for reapplying all day. At the moment this is what I use every day, several times a day. Though I like the texture and hydration, I am not in love with the slight orange/peachy tint. On the other hand, I like the shine and it does not show under lipstick. So, for now I would say: perfect (almost)! PatBellevue
Verified Purchase
SPF lipcare w a tint
I wanted SPF lip care that didn't have a million oils in it that would make me break out. This has not made me break out. I feel that my lips are protected, and I began to like the tint more and more! I'll definitely order again. LovelySkin Customer
Verified Purchase
Tint too orange
I love the SPF aspect, but the tint of the balm was too orange for my liking. LovelySkin Customer
Verified Purchase
Tasty!
I found this to be moisturizing and pretty much invisible on my lips. I assume it's doing its job as a sunscreen. It also has a pleasant flavor. LovelySkin Customer
Verified Purchase
High in SPF
This lip balm is decently high in SPF. It also contains zinc which is the only thing that will protect my skin from the sun per my dermatologist. Tastes a little funny but I can get passed that considering it doesn't leave a white film like other SPF balms. LovelySkin Customer
Verified Purchase
Happy with Purchase
I had been looking for a paraben free lip balm with SPF. I finally found this one and I'm very happy with the product. caligirl12
Verified Purchase
Works well!
I was looking for a lip balm with SPF protection. The CoTZ goes on smoothly and has a nice tint to it. I am pleased with this purchase! LovelySkin Customer
Verified Purchase