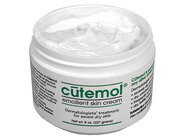 Write a Review - Receive 50 Rewards Points!
Tell us your thoughts about Cutemol Emollient Cream 8 oz Jar so we can help you find the right products. With your review, you'll also receive 50 Rewards Points. Please note that it may take up to 72 hours for a review to appear on site. All reviews are subject to moderator approval.
Write a Review
20 Results
Winter Wonderful!
This is the only thing that prevents/ saves the dreaded wintertime "sandpaper hands" and their friends, "split knuckles" and "cracked cuticles!" If your hands get that way before you start with Cutemol, follow the instructions on the jar, and then, spot treat any bad spots with extra cream and cotton gloves overnight. I end up with healed, ''baby-soft'' hands with pliable cuticles after a night or two of that. If you just use it after washing your hands, once or twice a day, you won't have any of those problems. I have perpetually chapped lips, and I use this year-round on them. Also on elbows and a few other spots. It really stays on for a long time, and the jar lasts. Great product!
The best dry skin cream
I have tried many dry skin creams and by dermatologist gave me a sample of cutemol cream and loved it! Highly recommend it!
It's Working!
My thumb and feet were really dry and cracked. Sometimes to the point of pain. Experienced this especially in the winter months. For years I have tried many different cremes and lotions. A friend suggested Cutemol. Followed directions....For my thumb I cut the fingers off of a glove...the kind used in food prep or by Dr's... and wore it over my thumb. Sometimes I used a piece of tape ...[ the kind used to keep gauze bandages in place ]... to keep it tight. Just finished two weeks..... I am totally surprised at the results. I have smooth, moist skin once again. No pain! I expect to be a life-long user. This cream WORKS as advertised.
Worth Every Penny
I have used this product for two years and it is the best. Frankly, I find during the dry fall and winter months, the bottom of my feet have a difficult time staying moisturized. My dermatologist gave me a sample. I have had nothing but success. More folks need to know how good this product is!
Excellent Moisturization
For years the skin covering my elbows has been dry and somewhat discolored despite the regular application of a moisturizer. After applying this cream one time daily for one week, my elbows look amazing. Very happy
Keep thumb cracks away
As soon as winter weather make an appearance, so did the cracks at the corners of my thumbs and my forefingers . Cutemol does a great job (not quite perfect) of keeping the cracks at bay. I put it on at night and it really makes a difference.
The Best
I've tried many, many different hand creams. I've been especially satisfied with this one. Cutemol is well worth the price because it is an exceptionally good product.
Best Product Ever!
Where I live there is a high amount of radium in our water (unknown to me when moving here) so my hands get extremely dry with horrible blisters if I forget to wear rubber gloves. Cutemol is the only product I have found that literally heals my hands in a matter of days. PLUS, if you put this on your hands or feet at night with cotton gloves or socks, your skin will be very soft in the morning!
Absolutely the best
I'm a man into my years. Over my life I have done work that has damaged my hands. This product was recommended to me by a dermatologist about five (5) years ago. He gave me a small sample. I tried it and wasn't all that impressed. I continued to have the same problem of reoccurring dry sand paper hands. About two (2) years ago I happened upon the small sample that was given to me by my dermatologist. I retrieved the name and ordered online. I opted for the 8 oz jar because it was more economical. One 8 oz. jar will last you approximately four to five months with two applications per day. Yes, it is a bit pricey, but this stuff really works. You do have to continue to use it. In other words it does not cure the cause of the problem, but it does cure the problem, i.e., you hands become so much more soft and supple. I'm no longer embarrassed about shaking hands with others. Going back to price again I can only say that most of the "high dollar" stuff you get at the drug store costs around $12.00 to $15.00 and they are no where near as effective as cutemol. If you want something that works, don't waste your time on other products. Order Cutemol.
Dermatologist recommended
At my age of 78, Cutemol was recommended by the dermatologist for splitting nails and rough hands. I rub in a small amount on my hands before retiring at night. It has softened the skin and made my fingernails less brittle. This is my 2nd jar of Cutemol and I will continue using it!
Dry and cracked skin help big time
If like me you suffer from dry skin and get cracks in wintertime this is for you. It has really helped my cuticles and I even have nails. Pair with DermaNail. I also use it on my toes and heels during sandal season in particular. It feels great. My walking 41/2 miles a day feet and my kayaking feet appreciate the treatment daily.
cutemol emollient cream
I have very dry hands and this works wonders. Also my cuticles are much softer after using this product.
Delivery
They did not ship it on a timely basis. It took forever to get the product.
Wonderful Product
Cutemol is my go to bottle for dry skin. I put it on my hands every night and I swear it makes them look younger. It nourishes my nails and cuticles. Makes my nails stronger so they dont break as often. It is a very thick heavy cream, sometimes sticky so a little goes a long way. I keep it by my bedside to remember to put it on every night. Have been buying this for over five years now and will keep on buying it. Its a beauty must have!
Cutemol Is the BEST
I keep this jar on top of the bathroom counter so its handy to put on whenever I want or need. It is very, very soothing to my dry fingers - and the only thing in winter that really soothes & fixes. I highly recommend Cutemol cream, especially in the jar form. And thru LovelySkin, a much better price than at the local discount pharmacies who rarely have it anyway.
I Love It
This product is wonderful! I have rheumatoid arthritis and very dry nails. I massage this into my fingernails every night to add moisture. Instead of seeing the lines and ridges I usually have I see a nicely polished, moisturizerd fingernail. This product was recommended by my dermatologist and it has proven to be a great find. https://www.facebook.com/ClevelandClinic/posts/10152676252653100
Cutemol dry skin cream
Without a doubt, the best dry skin cream available - about ten years ago a dermatologist recommended this product to my wife for her dry skin problem and we have been using it ever since with outstanding results - as soon as cold weather season starts we start using Cutemol and the dry skin problem is resolved.
Excellent Emollient Cream
I found this cream from my dermatologist to use on my feet at night (with wrap and socks). It is VERY THICK and greasy but in a good way. However, if you do not like thick and greasy, you will not like this cream. A quick tip, if applied to slightly damp skin, it spreads and seems to absorb better. Great cream I hope to always have!
Cutemol
I learned about this product through a free sample...later came back and bought the 8oz jar. Cutemol has really helped my dry cuticles! The reason I gave it 4 stars instead of 5 is that this cream is really thick and takes awhile to be absorbed
Just what I needed for dry skin
I needed a product that would work on both my hands & feet as well as the rest of my body. This especially cold winter has been tough on my dry, itchy skin. I ordered the cream in a tube and liked it so much that I reordered the cream this time in the 8 oz. jar. This cream is thick but not greasy. It has worked to improve the appearance of my hands & feet. My skin is soft & smooth with much less cracking & tenderness. I notice my skin looks plumper actually younger. This is the only cream I will purchase in the future.