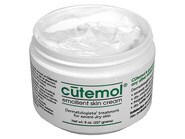 Reviews For
Cutemol Emollient Cream 8 oz Jar
34 Results
Great for dry skin
This is the only lotion that helps my husband's dry skin in the winter. It lasts and really makes a difference if used in a day basis. Not inexpensive but worth it! LovelySkin Customer
Verified Purchase
This works!
Ok...it smells medicinal...but it works!! & I couldn't believe how well! My hands get so dry all year & this repairs them so well. If you struggle with dry hands & feet I highly recommend this remedy. LovelySkin Customer
Verified Purchase
Great Cream!
I had a sample of Cutemol that I tried and really liked it, so I ordered a tube of it. It really softened my hands, so I tried some on my feet! I liked it so much I bought the 8oz jar for myself and another tube to give to my sister to try. This product is a keeper in my opinion and I will be ordering more in the future!! MissKat
Verified Purchase
Best Moisturizer Ever
I am a moisturizer junkie. I have tried just about everything out there and this is by far my favorite! Nice dry skin cream
This is a good cream for dry skin, I especially like to use it on hands and feet, sometimes just on the cuticle area. It's got a soft, silky feel and is pretty light and non-greasy for a "severe" dry skin formula. Doesn't feel like an ointment like some other dermatologist-recommended creams. LovelySkin Customer
Verified Purchase
BEST EVER for PROBLEM SKIN
My skin is highly sensitive and reactive and very dry. Throughout the years, I have tried numerous products. This skin cream is EXCELLENT and WONDERFUL and IMMEDIATE results. THIS IS THE WINNER....and I am nearly 70 years old: therefore, I have used numerous skin creams - many prescription creams per my dermatologists. NOTHING compares to Cutemol Emollient Cream.! A+++ product!!!! RazorBack
Verified Purchase
My dermatologist recommended this for fragile nails
Over the past couple of years, some of my finger nails have become very fragile with vertical ridges. These nails split vertically along the ridges and break easily. My dermatologist recommended that I take 10,000 mg of biotin every day, and also to apply this Cutemol cream on the bare nail 2-3 times a day. I wasn't able to find Cutemol at CVS or Walgreen's, but found it here on LovelySkin! I've been using it for about 5 weeks now, and my nails are somewhat better. I put it on last thing at night, as it is very thick and sticky, but the cream slowly sinks into the skin when I massage it in. It would be hard to use it during the day as it is so sticky–you would leave fingerprints everywhere. I am also trying it on an old scar on my leg each night to see if it repairs the skin. The jury is still out on all this, but I do believe I see some improvement both in my nails and the scar. The dermatologist told me it would take time. LovelySkin Customer
Verified Purchase
Fantastic Cream at Great Price
Cutemol is great for my dry hands. I use it nightly. I no longer have problems in winter with skin cracking, and my nails look much healthier. I shared some with my son who has psoriasis and it has helped him tremendously. A little goes a long way, and LovelySkin's price was better than other places I checked. LovelySkin Customer
Verified Purchase
My Favorite for MN Winter Hands
I started with free samples, went for the tube, now am a loyal jar purchaser. This is a great thick cream that looks great and lasts through hand washing. It had specific instructions for daytime v. nighttime use. LovelySkin Customer
Verified Purchase
Helping Hands
The best hand cream ever, and I have tried many. It feels a little sticky at first, but then my hands feel so soft and the product stays on for hours. Thank you for the samples. LovelySkin Customer
Verified Purchase
Great dry skin
This lotion is great for your hands if they crack from frequent washing. Best when you can use the white glove method at night. You only need to use a small amount so the jar lasts a long time. LovelySkin Customer
Verified Purchase
Awesome cream
My cuticles were a mess. Since I've been using Cutemol they are so much better. The tub is going to last a long time since it only takes a small amount. LovelySkin Customer
Verified Purchase
Cutemol Gets It Done!
The consistency of this "emollient skin cream" may be off-putting to some, because it is quite thick however, as a winter skin softener, this product cannot be beat. I'm a performing singer/guitarist, and I coat my hands with Cutemol nightly and wear cotton gloves so as not to besmirch my sheets–and it keeps my skin from splitting, evens out rough spots and even makes my nails behave as they should. This is a great product. (So is DermaNail, also made by the same company.) LovelySkin Customer
Verified Purchase
Love this!!!
This product is absolutely awesome. It has saved my skin from the cold, dry winter air! Makes my skin feel extra soft and moisturized. LovelySkin Customer
Verified Purchase
Winter Wonderful!
This is the only thing that prevents/ saves the dreaded wintertime "sandpaper hands" and their friends, "split knuckles" and "cracked cuticles!" If your hands get that way before you start with Cutemol, follow the instructions on the jar, and then, spot treat any bad spots with extra cream and cotton gloves overnight. I end up with healed, ''baby-soft'' hands with pliable cuticles after a night or two of that. If you just use it after washing your hands, once or twice a day, you won't have any of those problems. I have perpetually chapped lips, and I use this year-round on them. Also on elbows and a few other spots. It really stays on for a long time, and the jar lasts. Great product! LovelySkin Customer
Verified Purchase
The best dry skin cream
I have tried many dry skin creams and by dermatologist gave me a sample of cutemol cream and loved it! Highly recommend it! LovelySkin Customer
Verified Purchase
It's Working!
My thumb and feet were really dry and cracked. Sometimes to the point of pain. Experienced this especially in the winter months. For years I have tried many different cremes and lotions. A friend suggested Cutemol. Followed directions....For my thumb I cut the fingers off of a glove...the kind used in food prep or by Dr's... and wore it over my thumb. Sometimes I used a piece of tape ...[ the kind used to keep gauze bandages in place ]... to keep it tight. Just finished two weeks..... I am totally surprised at the results. I have smooth, moist skin once again. No pain! I expect to be a life-long user. This cream WORKS as advertised. LovelySkin Customer
Verified Purchase
Worth Every Penny
I have used this product for two years and it is the best. Frankly, I find during the dry fall and winter months, the bottom of my feet have a difficult time staying moisturized. My dermatologist gave me a sample. I have had nothing but success. More folks need to know how good this product is! LovelySkin Customer
Verified Purchase
Excellent Moisturization
For years the skin covering my elbows has been dry and somewhat discolored despite the regular application of a moisturizer. After applying this cream one time daily for one week, my elbows look amazing. Very happy Pgensler7
Verified Purchase
Keep thumb cracks away
As soon as winter weather make an appearance, so did the cracks at the corners of my thumbs and my forefingers . Cutemol does a great job (not quite perfect) of keeping the cracks at bay. I put it on at night and it really makes a difference. LovelySkin Customer
Verified Purchase
The Best
I've tried many, many different hand creams. I've been especially satisfied with this one. Cutemol is well worth the price because it is an exceptionally good product. LovelySkin Customer
Verified Purchase
Best Product Ever!
Where I live there is a high amount of radium in our water (unknown to me when moving here) so my hands get extremely dry with horrible blisters if I forget to wear rubber gloves. Cutemol is the only product I have found that literally heals my hands in a matter of days. PLUS, if you put this on your hands or feet at night with cotton gloves or socks, your skin will be very soft in the morning! LovelySkin Customer
Verified Purchase
Absolutely the best
I'm a man into my years. Over my life I have done work that has damaged my hands. This product was recommended to me by a dermatologist about five (5) years ago. He gave me a small sample. I tried it and wasn't all that impressed. I continued to have the same problem of reoccurring dry sand paper hands. About two (2) years ago I happened upon the small sample that was given to me by my dermatologist. I retrieved the name and ordered online. I opted for the 8 oz jar because it was more economical. One 8 oz. jar will last you approximately four to five months with two applications per day. Yes, it is a bit pricey, but this stuff really works. You do have to continue to use it. In other words it does not cure the cause of the problem, but it does cure the problem, i.e., you hands become so much more soft and supple. I'm no longer embarrassed about shaking hands with others. Going back to price again I can only say that most of the "high dollar" stuff you get at the drug store costs around $12.00 to $15.00 and they are no where near as effective as cutemol. If you want something that works, don't waste your time on other products. Order Cutemol. LovelySkin Customer
Verified Purchase
Dermatologist recommended
At my age of 78, Cutemol was recommended by the dermatologist for splitting nails and rough hands. I rub in a small amount on my hands before retiring at night. It has softened the skin and made my fingernails less brittle. This is my 2nd jar of Cutemol and I will continue using it! LovelySkin Customer
Verified Purchase
Dry and cracked skin help big time
If like me you suffer from dry skin and get cracks in wintertime this is for you. It has really helped my cuticles and I even have nails. Pair with DermaNail. I also use it on my toes and heels during sandal season in particular. It feels great. My walking 41/2 miles a day feet and my kayaking feet appreciate the treatment daily. LovelySkin Customer
Verified Purchase