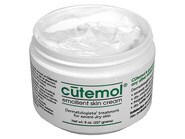 Reviews For
Cutemol Emollient Cream 8 oz Jar
5 Results
Nice dry skin cream
This is a good cream for dry skin, I especially like to use it on hands and feet, sometimes just on the cuticle area. It's got a soft, silky feel and is pretty light and non-greasy for a "severe" dry skin formula. Doesn't feel like an ointment like some other dermatologist-recommended creams. LovelySkin Customer
Verified Purchase
My dermatologist recommended this for fragile nails
Over the past couple of years, some of my finger nails have become very fragile with vertical ridges. These nails split vertically along the ridges and break easily. My dermatologist recommended that I take 10,000 mg of biotin every day, and also to apply this Cutemol cream on the bare nail 2-3 times a day. I wasn't able to find Cutemol at CVS or Walgreen's, but found it here on LovelySkin! I've been using it for about 5 weeks now, and my nails are somewhat better. I put it on last thing at night, as it is very thick and sticky, but the cream slowly sinks into the skin when I massage it in. It would be hard to use it during the day as it is so sticky–you would leave fingerprints everywhere. I am also trying it on an old scar on my leg each night to see if it repairs the skin. The jury is still out on all this, but I do believe I see some improvement both in my nails and the scar. The dermatologist told me it would take time. LovelySkin Customer
Verified Purchase
Great dry skin
This lotion is great for your hands if they crack from frequent washing. Best when you can use the white glove method at night. You only need to use a small amount so the jar lasts a long time. LovelySkin Customer
Verified Purchase
Keep thumb cracks away
As soon as winter weather make an appearance, so did the cracks at the corners of my thumbs and my forefingers . Cutemol does a great job (not quite perfect) of keeping the cracks at bay. I put it on at night and it really makes a difference. LovelySkin Customer
Verified Purchase
Cutemol
I learned about this product through a free sample...later came back and bought the 8oz jar. Cutemol has really helped my dry cuticles! The reason I gave it 4 stars instead of 5 is that this cream is really thick and takes awhile to be absorbed LovelySkin Customer
Verified Purchase