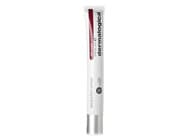 Reviews For
Dermalogica AGE Smart Skinperfect Primer SPF 30
$53.00
32 Results
Primer
Great primer. I'll use it before I apply CC cream or I use it alone. I have large pores and it works great to cover that up. LovelySkin Customer
Verified Purchase
The absolute best face primer!
I have been using Dermalogica Age Smart Skinperfect Primer for over a year. I love the way it goes on smoothly and under foundation. It evens out my skin tone. As a bonus, it is SPF30. After trying MANY primers, I found the perfect one. Mindy67
Verified Purchase
Primer/sunscreen
This is a nice sunscreen w/ primer that has a slight tint to it. It's not a very big tube for the price. It goes on smooth and blends well w my skin tone. I would buy again! Jewelzzz
Verified Purchase
great as primer or use alone
Has SPF, goes on smoothly with a nice ''blur-like'' effect that works perfectly for a natural look, and is really light-weight. One of the better primers I've used for my combination skin, and I like it so much I use it in place of foundation in the summer. Once my tube runs out, I'll buy it again. AmberJean
Verified Purchase
Dermalogica Skin Primer
I absolutely LOVE this primer. It glides on so smoothly with a hint of color. Looks so natural and feels like velvet. I'm so happy to have found it, so much better than heavy foundations. Came so promptly and reasonably priced. Jennypich
Verified Purchase
Amazing!
Love this primer! So many great things.....SPF, fills those pesky lines and wrinkles, and the tint is perfect for me (shade-wise I'm a Radiant or Satin in Jane Iredale). I am able to use this on my eyelids as a primer with no watering, but I do not have overly sensitive eyes....try this with caution. I could use a bit more product in the tube though! LovelySkin Customer
Verified Purchase
Best Primer
Love how this feels on my face! Most days, I don't even use a foundation with this. It has a added bonus of sunscreen too. Will definitely buy this again. LovelySkin Customer
Verified Purchase
Love the product. The packaging is awful!
Great primer. Makes my 44-year-old problem skin look flawless under my foundation. The tube/packaging of this product always breaks open at the seam and oxidizes the product and ruins it. Please fix the tube/packaging! Otherwise, great product. LovelySkin Customer
Verified Purchase
You'll love this!
This is the most amazing primer! I use so much less foundation and my skin feels amazing and looks amazing! Also has SPF so no need for sunscreen. You really should try it. LovelySkin Customer
Verified Purchase
My God, I love this stuff.
The entire product line is so fantastic. Superior color and primes perfectly. Searched years for something like this, and make no mistake, it performs beautifully. Soft, smooth, effective. I'm 48 years old with touchy, fair skin, and this product makes my face appear flawless, like a porcelain doll. I hope they don't cancel it. I have to search high and low every time I come in here to purchase it. LovelySkin Customer
Verified Purchase
Sunscreen and primer all in one
I wear this without any additions except a little eye makeup. Love it. LovelySkin Customer
Verified Purchase
DERMALOGICA AGE SMART SKINPERFECT PRIMER
This primer is a remarkable product. It works so well as a primer under makeup and holds very well. I even use this primer in place of a liquid makeup. One great product got two good uses. Under liquid makeup when I want a really finished look or just primer during the day when I'm running errands. You just can't loose with this product does its job well and more! LovelySkin Customer
Verified Purchase
Simply the best
I love this primer. I do not step foot out of the house without sunscreen and this one makes my skin glow. If I'm going to wear foundation, I mix it with primer allowing me to get a sheer, healthy glow by using less foundation. My skin looks great and I have sun protection. I'm turning 70 but my skin says, "No way." My daughter in her 30s who has combination skin also loves this skin protecting primer. It's never too early to protect your skin from sun damage. LovelySkin Customer
Verified Purchase
Best primer ever!
Your skin becomes literally "skinperfect!" My skin becomes so smooth and pores disappear. It has sunscreen to boot! What more can we ask for? Smooth skin, love it
This gives me the smoothest result. I have large pores in my t-zone and drier skin at the age of 45. Other primers feel like they dry out my skin even more. This is the only primer that does not dry out my skin and my pores appear so much smaller. It's a winner! LovelySkin Customer
Verified Purchase
Great Primer
I have used this Primer and found that it is one of the best on the market. It goes on smoothly, does not cake and makes a perfect foundation for your foundation :) I love the way it covers redness and brown spots for times that I just do not want to wear foundation over it. Great for when I go to the gym Great alone or with makeup
I love this primer. It smooths your skin tone beautifully for those days when you'd rather go natural, or provides a good base for makeup. I've tried other brands and they always felt too thick and cakey. This primer has just the right balance of mild coverage and weight while still going a long way. I've just received my second tube and am very happy with it. LovelySkin Customer
Verified Purchase
Great
I tend to have redness and brown spots. This is a must have. It covers completely without caking. I use a liquid foundation over it, and a finishing powder. My skin looks flawless. I get dozens of compliments. It does not look over done. It is a must have in my make up bag. I cannot live without it. It took a lot of products and trial and error to find what works. And this stuff works. I have dry to normal skin, this does not effect my skin condition in any way. I have been using Dermalogica products for 20+ years. Try other stuff, always come back to Dermalogica. LovelySkin Customer
Verified Purchase
Absolute best primer
I have tried many primers and always find myself going back to the skinperfect primer. The product is extremely smooth, hydrating and can be used as a light foundation LovelySkin Customer
Verified Purchase
Love it!
I ordered my usual Obagi skin products last month and found a sample of Dermalogica AGE Smart Primer in the box. I had just purchased another primer the week before but I LOVED this primer so much, I ordered it right away! Now I have an almost brand new bottle of the other primer that probably won't get used! I just love the way it makes my skin feel and my makeup goes on so smoothly! LovelySkin Customer
Verified Purchase
Great product!
My aesthetician uses this on me and I love it. It is especially helpful in the drying winter months. LovelySkin Customer
Verified Purchase
Love this product
I can't go a day without this wonderful product! I've been wearing Skinperfect primer ever since dermalogica came out with it.. Loved it the first time I tried it. Makes my skin feel smooth my foundation stays on all day or some days I wear it alone and looks great by itself. I highly recommend giving it a try you won't be disappointed! LovelySkin Customer
Verified Purchase
Best primer I''ve used
Thankfully my skin is in good shape but I have fairly large pores that I don't love…I also wear virtually no makeup (only a bit of under-eye concealer and mascara - no foundation or anything like that. I'm a 5 minute out the door kind of girl.) This primer feels great on my skin, makes the pores appear smaller and has SPF to boot. It's not cheap, but my skin loves it and it protects my face from the sun. It's also very light and doesn't appear like makeup on the skin, which many other primers do. Can't recommend it highly enough. Only downside is the price, but a little goes a long way. LovelySkin Customer
Verified Purchase
Dermalogica AGE Smart Skinperfect Primer SPF 30
The product makes my skin look flawless and at the same time protects it. LovelySkin Customer
Verified Purchase
Nice primer and tint, but needs higher spf
I recently tried a free sample of this and liked it a lot. I'm looking for something that provides nice primer/coverage like this, but my face needs at least 40 spf.