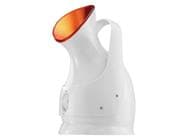 Reviews For
Dr. Dennis Gross Skincare Pro Facial Steamer
$149.00
This is addictive!
I have been missing my facials due to covid restrictions and this is a wonderful way to not miss out. It is very easy to use and I do it twice aweek and use the Dr. Gross skincare afterwards. Steamer
Great Spa day for us. Love it. Janscat
Verified Purchase
Fantastic
While I was skeptical as to whether or not I would need this, I've now found this is a great addition to my skincare routine. I use I'd 3 times a week and have found it's so relaxing and gentle, and feels nice on my skin! LovelySkin Customer
Verified Purchase
Steaming
Good steamer with just the right amount of heat. My only drawback is for the with the steaming mouth to be larger to steam the entire face at one time. I do have to rotate my face to get the full effect. LovelySkin Customer
Verified Purchase
Good Quality Steamer, not the same as a pot of boiling water
Like the steamer a lot, it doesn't exactly steam the whole face at once though. You have to move your face around and steam targeted areas, so like chin, forehead, left cheek, right cheek... in order to get the combined effect of heat and steam. And the steam cools pretty quickly as it is leaving the cone, so the farther your face is away the less of an impact. Let's just say, using the steamer is not the equivalent of steaming your face over a big pot of boiling water. But this steamer is much safer and more portable than big pot of boiling water! skincat
Verified Purchase
Dr. Dennis Gross Skincare Pro Facial Steamer
Works perfectly. I recommend it. LovelySkin Customer
Verified Purchase
Amazing!
I use this once a week when I do my at home facial treatment. This is well made and works very well. I would re-purchase if it ever broke. Catherinesophia
Verified Purchase
Well worth the money
I bought this one because of all the great reviews and even thou it is a lot of money I kept seeing people complain about the cheaper ones breaking down. This gives such a lovely flow of continuous steam. Love it. By far worth every penny. Chrizzyddd
Verified Purchase
Super cool
You totally get the professional facial feel from this facial steamer. I really enjoy using it makes all my products penetrate deep into my pores!! Jessbshelby
Verified Purchase
Love love this
I use this once a week on Sunday, (less than 10 minutes), it is small and portable, so you can use it while scrolling your messages or reading in chair or at table. It does a great job unclogging pores. Skin is very clean and supple when finished. At-home facial!
I love this steamer! I use it weekly. It's a part of my pampering time and feels like I'm having a facial at home :-) It puts off a nice amount of steam, and my face feels great when I'm done. I keep a jug of distilled water under my bathroom counter to use in this steamer. I've had no issues and am thrilled with the purchase! LovelySkin Customer
Verified Purchase
Quick and easy!
After looking at several options on Amazon, I ended up purchasing this facial steamer because of all of the positive reviews. My 18-year-old daughter, and I use this after doing other facial treatments before bed, followed up with a hydrating mask that we keep on through the night. This machine heats up quickly, puts out a nice steam. It's much easier and far safer than trying to put your head over a pot of hot/boiling water. Would definitely buy again. LovelySkin Customer
Verified Purchase
Awesome Steamer
I never heard of any facial steamer until I saw this one in a major dept store during the Christmas holiday. I was very intrigued but not willing to bite the bullet on this last minute expensive purchase. A couple days after Christmas, I was shocked to see LovelySkin had the same steamer on sale. I took that as a sign to treat myself, and I'm so glad I did because my skin looks great. I use SkinCeuticals, which is a great skin care brand, but I've noticed using the steamer with these products has given me faster results. Since my pores are open, the serums I use can penetrate faster in the layers of skin. I'm a 46-year-old African American woman who has glowing skin, and I can honestly say I will never be without a facial steamer. LovelySkin Customer
Verified Purchase
Works well
I owned the previous Dr Gross Steamer for many years before it stopped working, and I wished it was still available. This model is smaller and does not produce steam for as long as the older model but because of it's physical size it is much easier to store which I do enjoy. I recommend that you buy it! LovelySkin Customer
Verified Purchase
Facial pro review
I am in love with this beauty tool! It's great for removing makeup! Applying a mask my skin is glowing and dewy all the time. I am so in love with this purchase! Out feels like I'm in a spa. It's a great buy! LovelySkin Customer
Verified Purchase
Great steamer
Only used a couple of times but I can already see an improvement in my skin. I love that you don't have to wait long for the steam to kick in. LovelySkin Customer
Verified Purchase
Amazing facial steamer!
I've always been old school when it comes to steaming my face... pot of water and a towel. It wasn't a huge hassle, but when my teenage daughter wanted to steam her face, I needed something quick and easy. I had never used a facial steamer before and I was so happy to find this wonderful little machine. Truly makes skincare easy! Needless to say, the pot and towel are a thing of the past. LovelySkin Customer
Verified Purchase
Easy and Effective
I love this steamer. It is compact and easy to use. I use this steamer 1-2 times a week. It is great for relaxing factial muscles and as an addition to routine skin care. The steamer runs approximately 9 minutes and you can easily switch the steamer "on" or "off" and the steam input/output responds swiftly. This is helpful if you are steaming during an at-home facial.