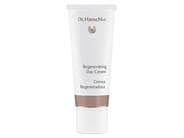 Reviews For
Dr. Hauschka Regenerating Day Cream
$85.00
Loved Dr Hauschkas Cream!
I have very dry skin due to menopause and weather conditions and this has really been a great addition to my skin routine. I will be purchasing again! LovelySkin Customer
Verified Purchase
strong scent
this is a really thick, rich heavy cream yet somehow it is not really greasy. it will leave just a slight sheen on your face. unfortunately, it has a very heavy scent that to me smelled like roses mixed with alcohol and perfume. the scent lingers a while. Just enough and smells GREAT
I'm not a makeup wearer and have dry, mountain-living skin. This is my last layer over serum, etc and I keep it in my purse and reapply if I feel dry later. My face is very happy to have this product as part of our daily routine. And, it smells great. Definitely NOT heavy or greasy. It is just right and while I cant say that the wrinkles are gone, I can say that the texture of my face is better. RiverGirl
Verified Purchase
love it
It's a life changer for me! Everyday, I use this in the morning, and I'm happy! Bye-bye wrinkles! LovelySkin Customer
Verified Purchase
Product review
Nothing special LovelySkin Customer
Verified Purchase
Wink
Amazing product after one week you really notice the difference in your skin. Somehow, it refreshes your face to a younger youthful look and feel with the cream on and after you remove, will buy again and again LovelySkin Customer
Verified Purchase
very sensitive skin
This is rich but does not bother my very sensitive skin. The smell is very fresh. This my third tube and I have tried several other brands but return to this for my older dry easily irritated red skin. LovelySkin Customer
Verified Purchase
Is this the same product?
I have read the other four reviews for this product and I am really amazed that it has such high ratings. I received a sample of this in the mail. I had purchased the lip healing product in this line previously, and thought it was okay--but JUST okay--so thought I'd see what else there is to this brand that justifies the high prices. I admit that when I first put it on, my skin did feel firmer. But that was the only positive thing I could say about it, and the negatives far outweighed that. The fragrance is overwhelming and not the least pleasant. It smells like dead roses that have been mixed with some oil of some sort. Then I read the ingredient list and I was shocked at how many known skin irritants are in this cream. That explained why my cheeks were turning red within just a few minutes of applying it. And I am being very honest when I tell you that I am NOT one of those people who has such fragile skin that I am constantly comparing about my skin being irritated. I already had my foundation on and had started to apply my eye shadow when I just could not take the odor anymore and could see that my face was getting pinker, so I stopped, cleansed my face, and did a complete skincare regimen with my usual skincare line. The smell lingered, but that may have been just a sense memory, or it may have been the residue of the product on my tissues. Whatever it was, this was the worst skincare experience I have had in many, many years. No one should be putting some of these ingredients on their face. And there are FAR better products out there at less cost than this one. (Btw, I checked the ingredient list of some of the other products in this line, and I am really shocked that they are getting anyone to buy this product line.) regenerating cream
I have actually seen a difference in my skin since I started using this fantastic cream about two weeks ago. You cannot beat Dr. Hauschka's products. LovelySkin Customer
Verified Purchase
good product
It is a good product but it absorbs really fast and I need to re-apply several times. Therefore not to run out of product too fast I use after Dr Hauschka some Vanicream (tube type) and in that way Dr Hauschka regenerating day cream lasts me 30 days. LovelySkin Customer
Verified Purchase
Visibly better looking skin.
I did not use this product for several months, deciding that it was too pricey for my budget. Now, I would not be without it. Makes my 61 year-old skin look healthy and gives it a definite "glow." I love all of Dr. Hauschkas products, but this one is a must have. LovelySkin Customer
Verified Purchase
another great product from the Dr. Hauschka line
This is a lovely cream that goes on smoothly and absorbs quickly. It also has a wonderful scent…which is very soothing. I feel it firms my skin as well as moisturizes. I highly recommended this cream. LovelySkin Customer
Verified Purchase