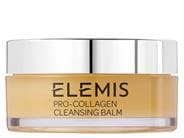 Reviews For
ELEMIS Pro-Collagen Cleansing Balm
30 Results
Elemis
I love this product and got the best deal from LovelySkin.Thanks!!! ELEMIS Pro-Collagen Cleansing Balm
This is my first cleansing balm and love using it as a second cleanse with the cleansing cloth. Will definitely be a cleansing favorite! Scent is very calming for bedtime too. LovelySkin Customer
Verified Purchase
Best cleanser!
This is my go-to cleaner! Makes my skin feel & look great. I use it nightly, cleans & removes make-up. Love the scent. LovelySkin Customer
Verified Purchase
Luxurious
My favorite cleanser. Leaves skin feeling soft and refreshed. A luxurious treat for the face. I also love this product
This goes on dry, and can sit for ten minutes. Then comes right off. It smells like a premium spa, and I saw in difference within a week. It's my new permanent cleanser. One of my favorite products!
I love this product! It takes off every ounce of my makeup before I actually wash my face with cleanser. Sometimes I even leave it on for 10 minutes as a nourishing mask. Highly recommend. Also, a little goes a long way, so it is worth the cost. LovelySkin Customer
Verified Purchase
Love!
I heard about ELEMIS from a blogger and decided to give the cleansing balm a try when it was on sale. I am so glad I did! It smells amazing and makes my skin feel so soft after I use it. LovelySkin Customer
Verified Purchase
Facial cleanser
I love this product. It cleans and moisturizes my skin at the same time! LovelySkin Customer
Verified Purchase
First Elemis purchase!
I use this in the evenings to take off SPF and makeup. A little expensive for something that would be best as part of a double cleansing routine. I like leaving it on for a few extra minutes for a hydrating a mini spa facial. My face is less puffy and slimmer immediately after use. The pro-collagen seems to pull things a little together without feeling tight. Will definitely try the pro-collagen rose balm and the pro-collagen marine cream next! Love it!!
This is an amazing cleansing balm! A very little goes a long way. Your skin is so soft after just one use. I did a lot of research behind this balm and I'm so glad I went with it!! Order it!!! Elemis Pro Collagin Cleansing Balm
I live in a state that has very cold, harsh winters. I especially love this product because it cleans my skin so well and gently. I highly recommend this product for skin that is dry but also sensitive. There is no residue of product on my face so I can go directly to my serums, moisturizer, sunscreen and make-up. I highly recommend this product. Bridgette
Verified Purchase
Brought my skin back to life
My skin was in horrible shape. Dry, fine lines & wrinkles.Using this product has changed my whole face. Now my face feels like silk. My husband noticed a HUGE Difference in my skin.This product is AMAZING. TRY IT! Like butter but better!
This cleansing balm is absolutely worth every penny. Yes, it's quite pricey but a little bit does go along way and it's a very high-quality product. The smell is fantastic but doesn't linger very long. The balm's texture Is like softened butter and its moves on the face very easily. It even takes off my hardcore waterproof mascara. I use it with my Clarisonic brush and when I rinse it off, my skin feels hydrated. Some people feel it's like a residue but I feel hydrated. I have never used it as a mask, but I smooth it on my face and then brush my teeth, and then use my Clarisonic to remove it. I highly recommend this product. It has not cause breakouts, and I don't need to double cleanse when I use this. ChicagoAmy
Verified Purchase
Wonderful product!
This is my new favorite cleanser! It feels luxurious and leaves my skin soft and clean without any dryness. It completely removes all stubborn makeup. I usually leave the balm on for about 5 to 10 minutes because it feels so good. Highly recommend! ProCollagen Cleansing Balm
LOVE this product! Cleans all makeup off and leaves my skin so soft. I am amazed every time I use it. LovelySkin Customer
Verified Purchase
Very strong essential oil smell / Does the job
Wish the fragrance wasn't as strong. Removes makeup well. LovelySkin Customer
Verified Purchase
Elemis Cleansing Balm
Wow what a fabulous balm. All natural, moisturizing, leaves skin supple and dewy,fresh smelling, small amount goes a long way. I've tried many products but none this good. This is my favorite and I will buy again. Linda LovelySkin Customer
Verified Purchase
Amazing hydrating cleanser
I cannot say enough positive things about this cleanser. My skin usually is dry and tight after cleansing, not with this cleansing balm. My skin actually looks smoother, and I cannot believe how much makeup it removes from my skin. The scent is very clean and not overpowering. I've noticed a definite improvement in my skin since using this product, it feels smoother, softer, and has a nice glow to it. Highly recommend. LovelySkin Customer
Verified Purchase
Worth the purchase price
ELEMIS Pro-Collagen Cleansing Balm is a treat for my skin every night. It has a rich texture that feels great on my face and melts away the make up. Just a bit of water and a light touch with my fingers washes away make up and any pollutants form the day. It leaves my skin feeling soft and moisturized. My face is normally dry but not after using ELEMIS Cleansing Balm. Worth every penny! LovelySkin Customer
Verified Purchase
great product
Love this product for hydration. LovelySkin Customer
Verified Purchase
Not my cup of tea
After trying this and a few other cleansing balms, I'm just not a fan of the residue these types of cleansers leave behind. Some find these cleansers soothing and love them, but I find that my serums don't absorb the same after cleansing. It does have a very nice spa texture, feel and smell though and I can see how it would make a lovely mask. Wonderful Product!
I love the way this product feels on my skin. I have dry skin, and this feels wonderfully hydrating. It ''melts'' quickly on the skin so is very easy to spread, and for me, a little goes a long way. DeniseDS
LovelySkin Employee
Best balm ever!
I LOVE this balm. It feels so luxurious and smells delicious. Leaves your skin clean and mosturized. Never going back to an oil stripping cleaner again. LovelySkin Customer
Verified Purchase
Elemis pro-collagen cleansing balm
A great spa like experience. The scent is calming. Would be great for dry winter months to remove makeup at night before bedtime. LovelySkin Customer
Verified Purchase
Clean and moisturized all at once
Great product. It cleans so well and left my skin so soft and refreshed. LovelySkin Customer
Verified Purchase