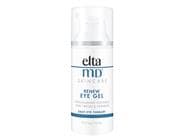 Reviews For
EltaMD Renew Eye Gel
$56.00
192 Results
Great for aging skin!
I have used Elta MD Renew Eye Gel for many years. I am approaching 60 years of age. This daily eye cream and ingredients therein have helped me maintain a younger youthful look. JillStephensKB
Verified Purchase
ELtaMd Eye Gel
I have always been a stickler for using nice eye creams for my dry skin, mostly balms. Lately though the area under my eyes had started to look a bit crepey so I decided to try ELtaMd Eye Gel. I am very pleased that I have begun to see an improvement with this lightweight formula. I also appreciate that the airless pump isn't larger than it needs to be and dispenses just the right amount of product. LovelySkin Customer
Verified Purchase
Ideal texture and hydrating
I love how light and smooth this eye gel is. It hydrates my around-eye areas very well. Not sure if it helped with my under-eye lines or dark circles though. Great product
I recently bought this after reading the positive reviews on beautypedia... I'm happy I did. It is a really great, affordable, eye gel. I love everything I have used from Eltamd. It is a wonderful brand. LovelySkin Customer
Verified Purchase
Love this!
I have tried many eye serums. I am in my late 30's and it helps keep my eyes bright, removes circle and puffiness as well as keeps wrinkles at bay. Non irritating which for me was hard to find for my sensitive skin. Very important step in skin care
I've been moisturizing my eye area since I was 15, and the products keep getting better. This one is easy to use, and I can even apply eye makeup shortly afterward. LovelySkin Customer
Verified Purchase
Light Eye Gel
It took multiple times pumping the container to get the product to come out. Initially I thought the pump was defective. The eye gel is light and goes on smoothly around the eye. It does not "cake". I can't say that it has helped the dark circles, but hopefully with time they will fade. My skin is dry and this may not be the right product for me. I think that it is the perfect product for younger skin. LovelySkin Customer
Verified Purchase
Just OK
I have been using this for a few months and although it is moisturizing, I don't really see any significant results under my eyes with reducing dark circles. Lines and smoothness
I was trying to find something with not all the harsh ingredients and stumbled across this and saw the reviews so I figured u give it a go and try it out. Day 6 and I can see an improvement in the dryness that was around my eye and can tell specially when I apply my makeup it doesn't look dry and old I have a more youthful look under my eye. I have tried many products for my eyes and all I can say is it's very disheartening when a product I buy claims to work wonders on so many but not me and even more disheartening stuff for the face is not cheap ladies so it's vet disappointing because I start to wonder what the heck is wrong with my skin and all the concerns that I have Why doesn't this stuff work for ME. I know it's only been 6 days but I can see a difference not like a miracle difference but I do see something and I do notice it so I thought 6 days it must be worth mentioning, right. Now here's the head kicker and it's again probably just me but if I use a product for to long whether external or internal my body becomes immune I hope I said that right so what I'm saying is I feel as if my body no longer responds to it. That's my problem I have. So I hope that these more natural products that I'm trying that seem to be doing something positive Internally and externally are permanent and not just temporary. I'm praying they are. Good luck ladies and gentlemen on your health and to a beautiful you. God bless! Ilovemy3kids100
Verified Purchase
Works Great!
I recently started using a retinoid and the skin around my eyes was super dry. This has helped a ton.! It got rid of the peeling skin. Will be repurchasing. LovelySkin Customer
Verified Purchase
My favorite sunscreen for my face.
I have an using the Elta MD tinted sunscreen for about seven years now. It's lightweight, non-greasy and just the right amount of coverage. The tint is nice so it actually gives me a little bit of color. I wear this year round. JenniferF
Verified Purchase
Better than expected
I gave up the eye cream I had been using for 10+ years after I tried this product for a month. Within a month I saw the results I was looking for. Wrinkles were diminished, dark spots lightened and less puffiness . This product is significantly less expensive thank my previous eye cream and I was truly surprised at how happy I was with the results. LovelySkin Customer
Verified Purchase
Renew Eye Gel
I have very sensitive skin and eyes and this formula does not spread into my eyes and helps my dry skin with added moisture. LovelySkin Customer
Verified Purchase
Great eye cream!
Love this eye cream! Very moisturizing! Mommafisch31
Verified Purchase
Ella Md eye gel
I love Eltamd eye gel. I have been using for months and I have seen much improvement. At 68 it is wonderful to find a product that takes away the years! LovelySkin Customer
Verified Purchase
Cool hydration
I have never found an eye cream that I routinely wanted to use until this one! It leaves my skin feeling cool, without a greasy or sticky residue. Dries quickly, and I can see a difference already. This will definitely be a permanent staple in my skincare cabinet! LovelySkin Customer
Verified Purchase
Smooth
This product has made a difference in my under eye area. It has smoothed out that tired dry look and has decreased my dark circles minimally. LovelySkin Customer
Verified Purchase
Nice
This is a nice daytime eye gel. Keeps skin hydrated, but I prefer something a little healthier, so probably will purchase a nighttime eye cream. LovelySkin Customer
Verified Purchase
Moisturizing eye gel
This is moisturizing and absorbs fairly quickly. No eye irritation. It seems great for moisturizing and less effective for addressing specifics like wrinkles around the eyes. Overall, a good eye gel and I'd recommend. LovelySkin Customer
Verified Purchase
Haven't noticed much improvement
I've been using for about three weeks. I haven't noticed any improvement to my dark circles but the puffiness does seem to have decreased. LovelySkin Customer
Verified Purchase
EltaMD Eye Creme
I love all things EltaMD. But this is my first time using this eye creme. Nice absorbency. And I REALLY like the container design. Small but pumped out the right amount each time. I gave it only 4 stars because for my 60+ eyes this creme was just a little TOO light. Perfect for my AM routine. But I will stay with something heavier for my evening routine. Overall, I would purchase it again. LovelySkin Customer
Verified Purchase
Gentle and effective!
This Gel felt really nice under my eyes. It absorb nicely, doesn't leave it greasy. I am in my 40s and under my eyes are dry, this eye gel has helped a lot with those issues. Would highly recommend. Angelia
Verified Purchase
Won't go without it!
Received a sample and noticed that my eyes looked brighter right away. After using it am and pm, my wrinkles have been greatly reduced as have the darkness under my eyes. Love this product! poickyshopper
Verified Purchase
Excellent daytime eye cream for oily, mature skin!
Love this product. I can put it above and below my eyes without any stinging or stickiness. A little goes a long way and it leaves a smooth finish that can be used as a primer for eye makeup. Layers well with two serums I put on prior and doesn't pill at all. I also have very oily skin and this doesn't start breaking down my eye makeup (which is all powders) or run into my eyes. Highly recommend for oily, mature skin that needs some help with crows feet and undereye wrinkles. Very smooth & comfy eye gel
Found out this product on sale and want to try. It's very small size and easy to carry. You only need a bite to make your eye area feel very rich, comfortable and smooth. Highly recommend this product! Topleading
Verified Purchase