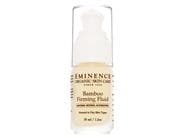 Reviews For
Eminence Organics Bamboo Firming Fluid
$62.00
Energetic Firming Fluid
One pump massaged into entire face, neck and decollete area gets right to work firming and tightening tired skin. I use it first thing after the Eminence Hydrating Mist to prep for my morning routine.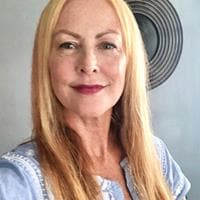 Trendagitator
Verified Purchase
Silky
I really like this and have ordered it twice now. It is very silky and hydrating. I can't say if it has actually firmed my skin but my skin does feel softer and more moisturized when I use it. It is a little expensive as it doesn't seem to last long but for now I'm going to keep it in my routine. Dendrobium
Verified Purchase
Firming and glowing!
I've only been using this for two weeks so I can only say that it does firm and tighten my skin leaving it with a subtle glow. However, I wouldn't say the results are dramatic but crossing my fingers that the more I use it, the better they get. LovelySkin Customer
Verified Purchase
OKAY product
I did not experience any of the firming results even when applied to my neck and chest. I like the fact it is organic. Good price point. LovelySkin Customer
Verified Purchase
Eminence Organics Bamboo Firming Fluid
I started using this product a few weeks ago and have noticed softer, moister facial skin. It is too early to comment on its effect on fine lines. I have benefited from Eminence products for several years and am overall very satisfied. LovelySkin Customer
Verified Purchase
Anti-aging friend
Though the firming fluid works very well, it does have a more mature scent to it. Would recommend for higher tolerable skin, not sensitive skin. leaves the skin replenished and firmer after consistent use. LovelySkin Customer
Verified Purchase
Eminence bamboo firming fluid
Product is a gentle firming tool. It does not dry out my skin like perscription Retinol does. The response time could be better but worth the wait. The pump does stick so its difficult to regulate amount. LovelySkin Customer
Verified Purchase
helps tighten and feels nice
Have been using for a few weeks, and think I can tell a difference. Skin feels a little tighter and the smooth feel of this product is very nice, so can be used day and night without a greasy look or heavy feel. Overall good product. LovelySkin Customer
Verified Purchase
Will likely order
I only received this as a sample, so know that my experience is limited; however, I really liked the feel of this serum and would likely order it at some point. Will try another bottle
I'm not entirely sure if this stuff is doing anything good for my skin... but it does seem to get rid of spots. Like it makes them scab a little and then fall off. Kind of a little miracle. I will be getting another bottle to keep using.