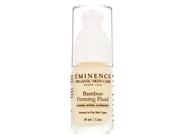 Write a Review - Receive 50 Rewards Points!
Tell us your thoughts about Eminence Organics Bamboo Firming Fluid so we can help you find the right products. With your review, you'll also receive 50 Rewards Points. Please note that it may take up to 72 hours for a review to appear on site. All reviews are subject to moderator approval.
Write a Review
24 Results
Great firming fluid
I use this prior to moisturizer and it's AMAZING, very lightweight and nourishing
Can't Live Without!
Ever since I started using Eminence Organics Bamboo Firming Fluid, I have noticed that the skin around my eyes and laugh lines are a little less noticeable, and smoother. I use this fluid every morning, and put a drop of the Citrus and Kale serum with it. LOVE the combo! I have used Eminence products exclusively for almost two years now, and my skin has never looked better! I love how you can mix products together to match what your skin needs!
Great product!
This is a great hydrating product! I have been using this product for about a year now, and my skin feels smoother and more firm. The product also has a great spa like scent. Highly recommend!
Bamboo firming fluid
I ran out of this product couple weeks ago and used something else. What a mistake, I raced back to get it again because I love the way it works on my skin and it really does soften and firm. No more changing around for me.
Stays on top.
Even when used very sparingly, my face remains a bit sticky. It has a nice scent, but not good for its intended purpose. Using it on my elbows works well, but it's a bit pricey for that.
Really works!!
I have tried tons of serums and have not seen any difference until this one. Wow, my skin is smooth and looks so nice. Love it!
Anti-aging friend
Though the firming fluid works very well, it does have a more mature scent to it. Would recommend for higher tolerable skin, not sensitive skin. leaves the skin replenished and firmer after consistent use.
Oh so smooth!
I bought this on advice from my aesthetician for my husband! He has a few brow lines that have come from squinting in the sun for too many years. I know it will take time to show what it can do on his face. But I have to confess that I go use this frequently because I love, love the smell and it makes my face feel so smooth!
Eminence bamboo firming fluid
Product is a gentle firming tool. It does not dry out my skin like perscription Retinol does. The response time could be better but worth the wait. The pump does stick so its difficult to regulate amount.
silky, & light
I have sensitive skin, and am chemical & scent sensitive. This is awesome, so light, smooth, silky. & a bit tightening. The scent is awesome - light & slightly sweet, dissipates quickly. It also has the cell rejuvenating anti-aging. I gave a sample of this to a friend who is in the extreme zone of sensitive - she couldn't believe it worked for her. She was excited & is still buying a year later - she stated to me, she wanted to bath in it it is so luxurious! It also works if you are not sensitive. Highly recommend!
Great product!
I love this firming fluid! Like all eminence products it smells good and works great. Your skin nice right away, no greasiness!
One of my favorites
This product is one of my favorites. The scent is pleasant and the product works very well to hydrate my skin, minimize fine lines, and protect against further damage to my skin caused by environmental factors. My skin feels soft and more firm after application.
Eminence bamboo firming fluid
I first started using this product about 2 years ago. I have used other similar products in the interim but have come back to this product. I like the silky feel of the product as it is applied and then you can actually feel the tighting as it drys a little. I also like the fact that it is organic.
Smells great!
One thing for certain about all the Eminence products is they smell amazing, in a very earthy and natural way. I just received this item yesterday so I can't really say how well it works just yet. I can tell you it smells great, goes on smooth, it isn't tacky or heavy either. Hopefully I'll see some results soon!
Bamboo Firming Fluid
Love this product! Does not break my face out, which was surprising due to my sensitive, acne prone, hormonal skin type. Makeup application looks much smoother when using this product!
great product
Love this! Put on before my moisturizer. A natural way to plump your face. Helps with wrinkles and fine lines. Smells great too.
Liquid Botox
This product is awesome! Every time I use this product I feel my face getting tighter. Bye Bye wrinkles! Highly recommended!
This Product is a Must Buy
I love this product - it works very well and it smells great! I would definitely recommend it.
Wonderful fluid to keep skin firm
I love this product for its scent and its firming properties. I have been using this for about a month and already have noticed a difference in the skin around my eyes and mouth. It also has a pleasant scent. My only criticism is I have noticed a few breakouts on my skin when I have used this product.
Eminence bamboo firming fluid
I initially tried a sample that I received, then ordered a bottle. Other brand firming products cause allergic breakouts on my skin. Not this one. I try several brands for my skin needs and always end up with an Eminence product.
helps tighten and feels nice
Have been using for a few weeks, and think I can tell a difference. Skin feels a little tighter and the smooth feel of this product is very nice, so can be used day and night without a greasy look or heavy feel. Overall good product.
Eminence Bamboo Firming Fluid
Just starting using this product two weeks ago so this review is based on limited usage but so far I like it a lot. It has a lovely aroma and a subtle firming effect on my skin. I do not like firming products that make my skin feel or look overly tightened. This product seems to penetrate and nourish my skin without any strange side effects. I am very happy about the natural ingredients and the glass bottle it comes in. The texture is perfect and applies easily onto the face. I am pleased with the product and look forward to using it each morning and night as part of my daily cleansing regime.
Will likely order
I only received this as a sample, so know that my experience is limited; however, I really liked the feel of this serum and would likely order it at some point.
Will try another bottle
I'm not entirely sure if this stuff is doing anything good for my skin... but it does seem to get rid of spots. Like it makes them scab a little and then fall off. Kind of a little miracle. I will be getting another bottle to keep using.