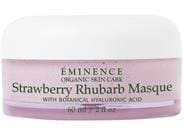 Reviews For
Eminence Organics Strawberry Rhubarb Masque with Hyaluronic Acid
$54.00
Heavenly smell
Not sure it did much extra hydrating ( I already use eminence facial oils daily) but the smell and feel was divine. Might not buy again but will enjoy every drop of this purchase. Shanz58
Verified Purchase
Nice
I mix this masque with the Firm Açaí masque and some water. Love the smell and strawberries are so good for the skin. I use a different Eminence masque every day and love the results - plus the aromas lift my spirits right now. Some people think a masque every day is overkill, but my skin is radiant and I have very few breakouts. LovelySkin Customer
Verified Purchase
Refreshing
For me, this product nailed what I hoped; that being a light, bright, sensory experience and healthy for my skin. So it's a positive experience for me, and I will repurchase. IndyGirlRider
Verified Purchase
Good but not for the breakout prone
This mask smells heavenly and really moisturizes well. However, I am acne-prone and found it was not great on my face—seems to clog my pores. But, I use it on my neck and chest while I have another mask on my face. It's glorious for these areas and would probably work well for someone who is not prone to acne and clogged pores. LovelySkin Customer
Verified Purchase
Smells and feels amazing
This mask is cooling and refreshing, a wonderful treat for my skin. I use the dermafoliant first, then the mask, and then the Rhubarb serum. Great hydration. naturalmakeupfan
Verified Purchase
Smells like dessert!
Feels very cool and soft on my face. I like this mask. I don't think the effects are as instantly noticeable as some of the brand's other masks. It smells great though and feels nice on. Perfect for an at-home spa night. LovelySkin Customer
Verified Purchase