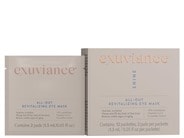 Reviews For
Exuviance All-Out Revitalizing Eye Mask
9 Results
Great product for reducing puffiness under eye - try refrigerated!
I decided to try these for fun, they actually really work. They are product soaked pads that ''stick'' under your eyes just like a wet paper would, but once applied they don't fall off and you can easily move them around without losing the staying power. I put them in the freezer for 10 - 20 minutes before use and they really do the job of reducing puffiness. I agree with other customers the residue is a bit sticky so I use a little water after to blend it into my skin and then apply my normal under eye product. I''ve left them on for 20 minutes before with no irritation. I don''t use them daily, instead I save them for use before an event or meeting where I want to look my best, or if I wake up with particularly tired eyes. I highly recommend! LovelySkin Customer
Verified Purchase
Great product!
I love this product that I ordered a box for me and another for my mother. It smooths out fine wrinkles and generally softens the eye area. Doesn't cause any allergies. LovelySkin Customer
Verified Purchase
Looked like I got punched in the face
I was excited to use these. Used them for the first time and then the next morning my under eyes were completely swollen and red. I looked like someone punched me in the face. I used it just like it said, and they only stayed on for under 10 minutes. My skin feels burned under my eyes and the swelling is scary. Won't buy again LovelySkin Customer
Verified Purchase
Exuviance Eye Treatment
I really have enjoyed this product for under eye, patch easy to use and really works. I use it 1 or 2 hours before applying my make up and it really helps put that extra moisture under the eyes before going out for the evening .. I just wish it would stay 3 or 4 days longer . Really great for tired eyes
The first time I got this product, 2 packets were empty. Other than that, it really helps with dark circles. LovelySkin Customer
Verified Purchase
REFRESHING
I decided to try this brand after being disappointed with others I have tried. I do like them, but gave them 4 Stars because they left a tacky, sticky residue. My eyes were refreshed after using them. I need to continue using before I comment on the effectiveness. Love this!!
I love these so much. I had never used any eye pads and took a chance on these. You leave them on and when you take off they leave some residue. Just let it dry and apply you makeup over the top. Every single time I have used them someon told me I look great... LovelySkin Customer
Verified Purchase
must have
i love these under eye treatments. a must have for your best eyes. i have lines under my eyes. this product makes them less evident. a must for before an event! LovelySkin Customer
Verified Purchase
Wonderful!
This product is great. It is easily absorbed and the fact that it has a sunscreen is a definite plus. My skin below my eyes has improved tremendously. Will buy again. LovelySkin Customer
Verified Purchase