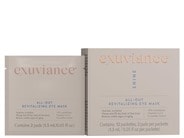 Reviews For
Exuviance All-Out Revitalizing Eye Mask
Great product for reducing puffiness under eye - try refrigerated!
I decided to try these for fun, they actually really work. They are product soaked pads that ''stick'' under your eyes just like a wet paper would, but once applied they don't fall off and you can easily move them around without losing the staying power. I put them in the freezer for 10 - 20 minutes before use and they really do the job of reducing puffiness. I agree with other customers the residue is a bit sticky so I use a little water after to blend it into my skin and then apply my normal under eye product. I''ve left them on for 20 minutes before with no irritation. I don''t use them daily, instead I save them for use before an event or meeting where I want to look my best, or if I wake up with particularly tired eyes. I highly recommend! LovelySkin Customer
Verified Purchase
Love this!!
I love these so much. I had never used any eye pads and took a chance on these. You leave them on and when you take off they leave some residue. Just let it dry and apply you makeup over the top. Every single time I have used them someon told me I look great... LovelySkin Customer
Verified Purchase
must have
i love these under eye treatments. a must have for your best eyes. i have lines under my eyes. this product makes them less evident. a must for before an event! LovelySkin Customer
Verified Purchase
Wonderful!
This product is great. It is easily absorbed and the fact that it has a sunscreen is a definite plus. My skin below my eyes has improved tremendously. Will buy again. LovelySkin Customer
Verified Purchase