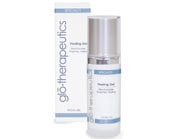 Reviews For
glo therapeutics Healing Gel
Overnight life saver for my breakouts
I don't wear makeup because I take very good care of my skin. This product when I do feel a breakout happening under the surface, I use the glo Clear Complexion Pads and follow with the glo Healing Gel as suggested am/pm. The next day the breakout is pretty much gone. For me this is an invaluable product. ambereyed
Verified Purchase
!!!
This stuff is amazing!! I would apply this daily before I go to bed and my blemish will disappear after two nights. My tip for anybody dealing with acne is more water + no dairy + healing gel + meditate to relieve any stress = the perfect regimen. Addresses Specific Needs - Feels Good
This is a product that I know will show its true results over time. I have hormonal acne that produces some true pimples but mostly acne cists. I am using this product on my problematic area – twice daily. This Healing Gel is not an all over moisturizer it is only for treatment areas. I have naturally delicate/dry skin and this product is not causes any dryness for me. I enjoy the texture of the product.