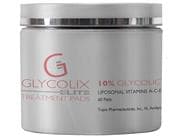 Reviews For
Glycolix Elite Treatment Pads 10%
Feels nice!
These are very nice and smooth glycolic treatment pads. I bought these to replace another brand that I had that was a bit too harsh. Plus, they had expired. These really brightened up your facial skin, and feel comfortable when applied to the skin. Very nice product
Like how easy to use and results after each treatment is wonderful, Skin is soft, clean, ready to apply my serums and moisturizer. Not too strong which is good in my case. MariaFlorida31yo
Verified Purchase
Love this product!
My face is extremely sensitive to everything, and acne prone. I also have hormonal acne. I started using these two weeks ago and my skin is really on the up and up. It went through a purging process which was hard to go through, but now, I'm loving how my skin looks and feels. I cut the pads in half and use them every night, followed by Obagi Clenziderm. I just use Cetaphil EXTRA gentle daily scrub, or Epionce Lytic Gel cleanser beforehand to wash my face. Anyway, I highly recommend! And start at 10% if you're sensitive like me. Your face will get red at first. Hjuliet
Verified Purchase
SO Rereshing!
Can't live without this product in my daily regiment. Helps with fine lines and dark spots and is overall just so refreshing after using your cleaner. Doesn't dry out skin, if anything it adds an extra layer of moisturizer. LovelySkin Customer
Verified Purchase
Terrific product
A nurse I worked with recommended Glycolix cream years ago when I was suffering from severe rosacea to the point of not wanting anyone to see me. She said it was going to sting for a few weeks, but to stick with it, and I would be happy with the results. It hurt like crazy for those few weeks as it sloughed off the top layers of skin, but I was thrilled with the results and continue to be amazed at how well it has eliminated my rosacea. I switched to the cleanser pads about a year ago and find it so much easier to use than the cream. When I accidentally run out of product, the rosacea starts to return, so I know it is Glycolix that is working. It may seem a little expensive, but compared to what I spent in unsuccessful dermatology treatments, it is worth its weight in gold. LovelySkin Customer
Verified Purchase
Great starter peel pad
Started my DIL on this for skin care, and she loves how glowing her skin has become. fiveone5
Verified Purchase
Excellent
I recommend starring with 10 percent then moving up. This product is amazing LovelySkin Customer
Verified Purchase
The best product !
If you have oily skin and want your face to be smooth and look great this is the product . Please note if you are not used to treatment pads please start out with 5% . This product helps control break out it's great and provides a brighter complexion. LovelySkin Customer
Verified Purchase
Dermatologist recommended
My dermatologist recommended that I used the facial cleanser for mild acne in lieu of using oral medication since I am trying to get pregnant. I couldnt believe how clear my face has been and its great because I dont have an upset stomach from the oral meds! Using these three products: La Roche-Posay Toleriane Purifying Foaming Cream Glycolix ELITE Treatment Pads 10% Replenix Power of Three Cream LovelySkin Customer
Verified Purchase
Topix pads
I really enjoy using this product. I have sensitive skin so I use it once a day, every other day. I have recommended it and your website several times with everyone liking it as much as I do! LovelySkin Customer
Verified Purchase