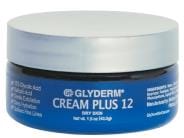 Reviews For
GlyDerm Cream Plus 12%
6 Results
Glyderm cream 12%
I've used this for years and love it Shirhead
Verified Purchase
A real workhorse!
I use other Glyderm products (cleanser, face lotion 5, face lotion 10) and thought I'd advance to this one. Used sparingly and only at night this cream both hydrates and exfoliates. Begin with the gentler creams or lotions and move up to this when you can tolerate the increased glycolic acid content. Glycolic acid helps to build collagen, and is a good addition to a regimen which already includes vitamin C serum, sunscreen and retinol. Glyderm 12%
I purchased this in attempt to replace my md formulations glycolic acid night cream that was discontinued. I like this even better! LovelySkin Customer
Verified Purchase
Works well
This works really well on my dry skin. A little goes a long way and I do feel some stinging when I first apply it, but then it goes away. I feel I have seen an improvement in my skin. I do switch this out with my retinol. Glyderm 12
Great product to be used with caution. You should always start out with a lower dose #5 or #10 I believe. It does work well and should only be used at night. I use it as a exfoliator every so often. LovelySkin Customer
Verified Purchase
Great nighttime exfoliator
I've been using Glyderm products for over 15 years, since I first purchased them in my dermatologist's office. Glyderm Cream Plus 12% has been one of my staples. I do switch between a retinole product and this for my night "treatment", and probably use this more often of the two. The price is affordable; and, a little goes a long way. I am 60 and live in a high altitude, dry environment where I spend a good deal of time outdoors. The hydration delivered by this product is enough that I never wake up feeling dried out by the glycolic acid ingredients. Meanwhile, this product has helped ensure that my skin has never developed a less-than-new feeling or look inspite of the years which relentlessly keeping adding up! LovelySkin Customer
Verified Purchase