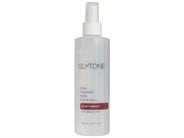 Reviews For
Glytone Acne Treatment Spray (Back and Chest) - 8 fl oz
$42.00
Best back spray on the market
Cleared up my back Clears back acne
My husband and brother cannot live without this stuff. It works hard to clear skin where nothing else has ever worked. We always stock this. LovelySkin Customer
Verified Purchase
Acne spray
This really works well as an aid to help with the back acne my daughter gets from playing year round sports. The smell is harsh, but she holds her breath and walks out of the room after applying. LovelySkin Customer
Verified Purchase
My favorite
This spray has been a critical component in treating very painful and resistant body acne. I am so grateful that it exists and always have multiple in stock. I use it twice a day and it keeps away all the bumps on my back that used to plague me. LovelySkin Customer
Verified Purchase
Strong
Super strong almost takes your breath away but works like a charm LovelySkin Customer
Verified Purchase
This stuff really works!
Ok, so I have tried everything! I never had acne as a teenager, but now as an adult, I have the dreaded shoulder and back breakouts that I attribute to hormones and working out daily at the gym. The combination of sweat and not so clean equipment has made a mess for me to which I have tried EVERY product I could find with no help or change. Enter this spray- that I use immediately after I shower and WOW! The next day things were looking better already! The only down side is it takes my breath away- use in a well-ventilated room or with something over your mouth and nose. Great product and will definitely order again! LovelySkin Customer
Verified Purchase
Finally can reach!
I am so happy to have found a product that can reach all the areas on my back that I can't! This has cleared up my back already and I have only used it for a few weeks! Just takes a little time to dry before applying a top. LovelySkin Customer
Verified Purchase
great for teenage bacne
My teenage son has been using this with great results. His acne is related to sports and he uses this after showers at night and in the morning. Haven't noticed much dry skin. The bottle is large and the spray works upside down as advertised. But the product definitely needs a well ventilated space. You will cough if you inhale it accidentally. LovelySkin Customer
Verified Purchase
The Secret Solution!
This spray is amazing! It heals blemishes within 2 days... even overnight sometimes! TessNYC23
Verified Purchase
Perfect!
I love this stuff. I have always had a problem with acne on my shoulders and back since I work out so much. I use this every day and all of my bacne is gone. The fumes are harsh, but its totally worth it to have smooth skin. LovelySkin Customer
Verified Purchase
refreshing
Love this after morning shower..its cool + refreshing + just feels "good" for you! LovelySkin Customer
Verified Purchase
Excellent Product
I use this spray along with the Glytone Body Wash. This is an excellent spray and really helps to treat and prevent my bacne. Just make sure to let it dry completely before dressing and spray it in a well ventilated room. It has a strong alcohol smell so be prepared. But that is a small price to pay for a clear back and shoulders. LovelySkin Customer
Verified Purchase
Get rid of that "backne"
This product is awesome and results are FAST!!! I tend to break out on my back and a little on my chest due to working out and this acne spray has been a life saver!!! This products design has made it extremely easy to reach those hard to reach areas on the back and shoulders it is also very potent, so you can feel the salicylic acid killing the bacteria instantly! Glytone makes this product in a travel size (2 oz.) so you can throw it in your gym bag or purse and give yourself a quick spray after a workout! LovelySkin Customer
LovelySkin Employee
great product! really does work!
i really love the ease of using this product and it really does work! i have re-purchased this a few times and will continue to use it! i love it! LovelySkin Customer
Verified Purchase