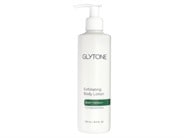 Reviews For
Glytone Exfoliating Body Lotion
$43.00
87 Results
Moisturizing Lotion
I had been using the Glytone Ultra Softening Heel and Elbow Cream for my feet and I loved it. Thought I'd change things up and give this lotion a try and I can't speak highly enough about it. I think it's now my new favorite! Once the weather cools, I experience extreme dryness on my legs and arms, not to mention the constant hand washing we are all going through. A little goes a long way. My hands are smooth and soft and the scaly skin on my legs is a thing of the past. I withheld a star because winter has not fully arrived and it is possible for my results to change. But for now I'm keeping it as a favorite. LovelySkin Customer
Verified Purchase
Love love love this lotion!
I have mild ichthyosis and this stuff saves my life!! LovelySkin Customer
Verified Purchase
The Best
Love this lotion us it every day my skin has never looked so good don't want to be without this lotion!!!! This works!
Needed a strong lotion to help with my dry skin. Major improvement in the first week. The bumps on the back of my upper arms are gone and my skin looks so much smoother. Finally found a product that works! Great product
Very strong but my skin quickly got used to it! Will repurchase! LovelySkin Customer
Verified Purchase
Wonderful product!
This lotion is great! I noticed a difference from using this lotion once. The backs of my arms are really smooth, as well as my legs. I can't wait to continue using this lotion and see the great results! Meg0111
Verified Purchase
Healthy Skin
Love this product. Leaves skin smooth and dark spots are fading. healthyskin
Verified Purchase
Excellent!
I have been using the Glytone Exfoliating Body Lotion for years. First recommended by my dermatologist. It makes my skin feel firm and plump. I like how it exfoliates without my knowing it. My skin looks younger! Great for back acne in summer
AHA is the great active ingredient for acne, especially in summer. Also is great for anti-ageing, so you can use this body lotion as an facial lotion for anti-ageing. AHA and BHA for acne. AHA , Tretinoin(Retin-A) and Victamin-C for anti-ageing. You never go wrong with these great ingredients. Murkibo
Verified Purchase
Fabulous product
My skin was starting to look dry, flaky, and old. This product had it all under control almost immediately. I use it every morning after my shower and my skin is back to a healthy glow and feels soft and silky. I'm 65. Yoganana
Verified Purchase
I Like It!
This product is extremely rich and emollient. I haven't used it long enough yet to notice a fading of brown spots, but I like the richness of the product. LadyShopper
Verified Purchase
Best Rich Emollient Exfoliating Body Lotion
This product contains the correct PH ratio to induce effective exfoliation. The price point is matched to the quality of this lotion as well, especially compared to other common drug store brands that do not offer the same level of exfoliation despite their label claims. I have ultra-sensitive skin and suffer from no ill effects from this product. LovelySkin Customer
Verified Purchase
pretty good so far
I've only used this product for a short time and need more time to evaluate fully but initially... it does appear to work well. I notice less of the cracked look on my aging skin. Mimiinsa
Verified Purchase
Lotion
Shows improvement in the loose skin on my thighs. LovelySkin Customer
Verified Purchase
Soft skin!
Have only been using for a couple of weeks but so far noticing that my skins is very soft and less dry. The fine lines on my forearms seem to be softening too. Try it! Beautyjunkie1
Verified Purchase
Lotion
Very thick lotion and does not spread or absorb well. Did not see any difference in skin Kerry9292
Verified Purchase
Great for Keratosis Pilaris
This helped me treat keratosis pilaris on the back of my arms....which is the only place I use it. It's a very heavy cream and not the easiest to rub in, but it does the job. No odor that I have noticed. LovelySkin Customer
Verified Purchase
Nice product
I've only been using this product for a couple of weeks, but like it so far. Would like it better if the pump spout wasn't damaged before shipping and I'd gotten a response from customer service after I emailed them and included pictures. The friend who recommended this product to me said the customer service for this company was great. I'm not impressed. If I purchase this again, it won't be from this company. Jcannon
Verified Purchase
So far so good!!!
I've been using this product for about 3 weeks now. I tend to try things for months so this review may not include all of the information that a 3 month use would. This product definitely smooths skin even the first time it is used. I have a scar on my knee that I am currently working on with other products but this one has helped lighten it as well. Be prepared for some stinging the moment this product hits your skin. I'm a bit sensitive, but not so much that I cannot stand this sting. Also, be prepared for some stickiness. Allow a good ten minutes for dry time. I would recommend standing in front of a fan. Despite the two issues, I'm willing to deal with these because of the outcome I am getting with my skin. It's super silky and smooth and increasingly getting more supple. Amandak
Verified Purchase
Still deciding
So far it seems to be working. I've been using it for a few weeks now and I was hoping for faster/better results. Time will tell, but for now I'll keep using LovelySkin Customer
Verified Purchase
KP almost nonexistent
I've been using this maybe 3 times a week and only for a few weeks now...MY KP IS ALMOST COMPLETELY GONE. Seriously. No more chicken bumps, just a slight redness is all that's left behind. I use this on my arms, chest, back, legs- basically everywhere, and my skin is smooth and soft. It's also clearer. This is a staple for anyone with rough/ bumpy texture. Nice Body Lotion
Glytone Exfoliating Body Lotion makes my 61 year old skin look brighter and it fades my sun spots. I really love this lotion as it makes my skin look younger and the skin has a nice glow!! Because of the price I apply it every other day and it still keeps my skin looking nice!! I apply it to my arms,chest,hands and legs. Nice lotion! Dagmara
Verified Purchase
Great product
I use this on my back and chest to treat acne. It's not bad but exercising can exacerbate the acne. Also I use on my arms for keratosis pilaris (chicken skin) and it works great. Not too drying or abrasive. Defintely recommend Drhawkins
Verified Purchase
Not Bad
I like this because as know as other Glytone products do, it will over time help to take the dead skin off and uncover smoother skin. There is an adjustment period of about a week, as I have sensitive skin, as I knew there would be. But, now when I apply it, there's not longer the tingly feeling. Definitely buying this again. Less Noticeable Keratosis Pilaris
I bought this lotion not only for myself but also for my adult son. It had been recommended for KP by a YouTube poster. After consistent and regular use, the KP is less noticeable for both of us!